The good news is – you've got clients and some great job orders. You know how you are going to the source and make placements.
The bad news, recruiting is overwhelming. Between sourcing, screening, managing clients, candidate expectations, and scheduling, it's extremely difficult to do.
But, there is always technology and recruiting automation to the rescue!
Here, we are going to talk about some types of recruiting tools that recruiters all over the world use to deliver better results for their clients, and candidates and keep their days a little less crazy.
Also Read: How to Choose The Best Recruiting Software for agencies.
What are Recruiting tools?
Recruiting tools to help you automate, simplify, and make the hiring process quick. Right from screening candidates, writing job descriptions, video interviewing, and sending bulk emails, there are tools available for every task you do daily.
Benefits of Recruiting tools
"On average, it takes an American recruiter USD 4000 and 24 days to hire a new employee," says a Glassdoor survey.
Every cost-saving measure a company can get its hands on is a blessing. Right?
Precisely this is what these recruitment tools do.
Here's how these recruitment tools help you perform better and more efficiently –
1. Increase Productivity
There are only a few office hours a day. Recruiting operations are filled with admin and busy work – a necessary evil that doesn't really add a lot of value to recruiting ops.
Recruiting tools help you organize your information, minimize admin and help recruiters operate with much better productivity.
2. Reduce the cost of hiring
Recruitment tools will do several tasks for you. In comparison, the price you pay in exchange is considerably low.
What's even better is that you can access some of these hiring tools for free. Crystal, Gorgias Templates, SourceHub, ContactOut, etc., are some of the free tools available in the market.
3. Consistency
Consistency is a significant element behind every successful business. While your teams might get irregular in their performance and effort, a well-designed hiring tool will never pull the plug on its consistency.
Regularity is a feature with which the hiring tools will eradicate the variables and work at a constant pace.
You must have got a clear idea about what recruitment tools are and their importance in your hiring process by now.
Now let's jump to the important question: What type of recruitment tools are available in the market?
Types of recruitment tools that your agency needs to enhance the process –
Here are eleven types of recruitment tools for recruiting agencies that can help you get the most out of your hiring process-
1. Candidate assessment recruiting tool
Before accepting candidates for a particular post and spending your time and resources on them, you need to run a pre-assessment to determine if they are the right fit or not.
These tools include a variety of assessment tests, work samples, cognitive ability tests, personality tests, job simulations, sales ability tests, language fluency tests, central tests, and many more as part of pre-employment assessments.
It's important to measure candidates' cognitive ability; people with high cognitive ability are
more likely to be high-performing employees. Test Partnership has candidate assessment
tools to assess cognitive ability.
Some Candidate assessment tools you can try are –
Adaface
Berke
HR Avatar
ThriveMap
2. Video-Interviewing Software
Video-Interviewing Software can help you surpass geographical and timezone limitations while choosing the best candidate. Video interviewing software is mostly used for asynchronous interviewing and makes the screening process faster.
Moreover, an AI-powered Video-Interviewing tool can recognize facial expressions, gestures, postures, speech patterns, etc. Thus even if human eyes miss these patterns, an AI Video-Interviewing tool will assist your clients in making well-informed decisions.
Some video-Interviewing software you can try are –
iMocha
Zappyhire
Myinterview
Vidcruiter
HirePro Video Interviews
3. Candidate Onboarding software
Onboarding tools can have a significant impact on your client and candidate experience. Onboarding is the first direct interaction between your clients and their new hires. An effective onboarding tool can set the tone on both parts from the first day of work.
Onboarding software for recruiting agencies can help new hires settle down in the new work environment. It can further assist you in gathering feedback from both the new hire and the client.
Few onboarding software is:
Asanify
Goco
Gustoe
Freshworks
4. CRMs
From initial application to onboarding, recruiting CRMs helps you maintain a healthy and positive relationship with both active and passive candidates. It allows you to constantly communicate and interact with candidates through various channels to determine the best fit.
Now, think about the other side of the table, your clients. A holistic recruitment CRM will help you to manage your clients as well. From cold emailing your prospects to onboarding new clients, it will help you handle everything seamlessly.
Some recruiting CRM software you can try are :
Recuiterflow
Bullhorn
Avionte
E-recruit
Invenias
5. ATS (Application Tracking System)
An Applicant Tracking System or ATS is a system of record for all your candidates and recruiting activities. It is the most critical and central part of a recruiting operation. It helps to recruit teams to work in sync, deliver a great candidate experience, and act as a single source of truth.
With Recuiterflow ATS feature, recruiters don't just have a system of record but also a system of productivity that helps them minimize admin work and automate their recruiting process.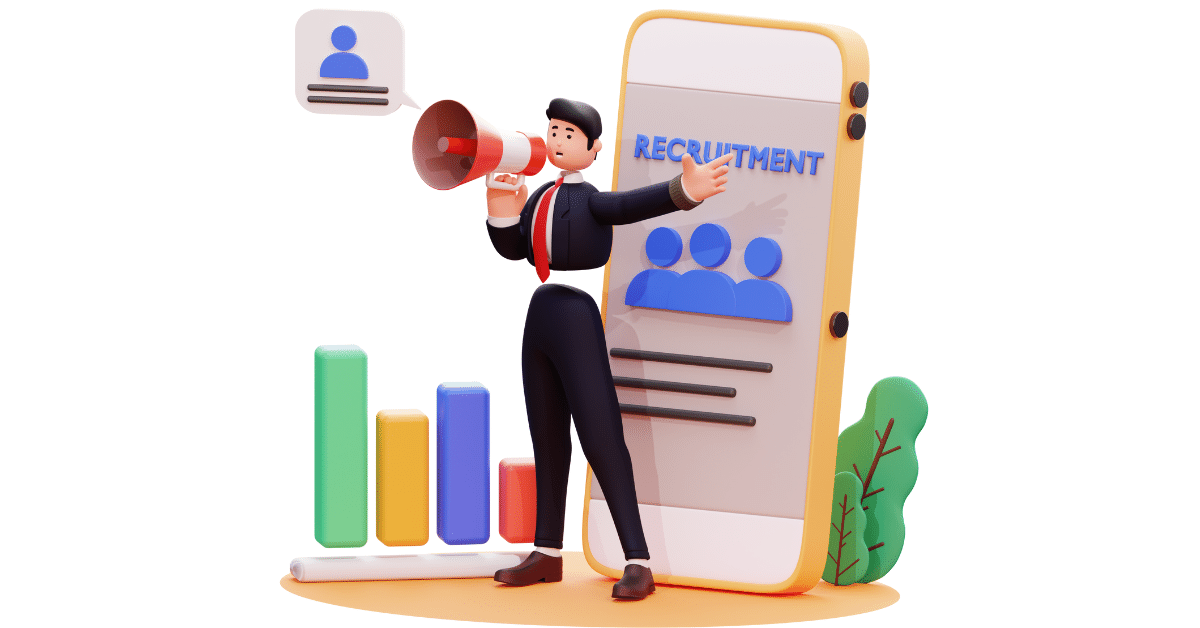 Hire Quality Candidates Faster With Recruiterflow.
6. Timesheet Software
Timesheet software helps you in organizing worker data, availability, and scheduling them with the right job. With it, you can generate timely timesheets, get them approved by clients and close all payments on time.
Zoho Workerly
Synerion
Mirro
Workforce Now
7. Payroll Management Software
Paydays are scary. You must ensure that everyone gets accurate payments on time and complies with tax regulations and procedures. Payroll software with various features like Automated tax and forms, Tax Compliance, Benefits Management, Bank Reconciliation, Payroll reports, etc.
It can thus help your recruiting agency automate payroll processes and organize your payroll management system.
Some payroll software for recruiting agencies are –
Gusto
AkkenCloud
primePRO
Workday HCM
Paylocity
ADB
8. Invoicing Tools
Recruiting agencies need to face some unique billing and invoicing hurdles. It's a mundane yet critical task to keep track of clients who have hired candidates on "trial" or when your clients are going for temporary staffing.
Invoicing Tools makes your task easy by automating the billing process and simplifying the process of sending and receiving invoices. It can further help you see real-time payments and improve documentation efficiency.
Some of these invoicing tools combine ATS and CRM functionality to help you slay your game.
Some software for recruiting agencies to streamline the billing and invoicing process are –
Quickbooks
Zoho Books
Invoice Simple
Xero
Invoicera
9. Social media integration
Think about the time social media campaigns rob you of. Social media integration tools make planning and scheduling posts hassle-free.
You can now run widespread campaigns to track applicants across various social networking platforms. In addition, get all the performance analytics at your fingertips with the Social media integration tools.
Recruiterflow comes equipped with social media integration and you can post your jobs on 25+ job boards including Google, LinkedIn, and Indeed.
Buffer
Sprout Social
Hubspot Marketing Hub
Hootsuite
10. Productivity Tool
Recruiting agencies deal with multiple clients, contact hundreds of clients, take care of sales acquisition and schedule numerous tasks daily. To stay on top of your game, you must master the art of productivity.
Recruiterflow has a built-in task management system that makes your hiring processes faster, streamlines your recruitment pipeline, and provides a stellar candidate experience.
Some tools you can try to help you with task management and streamline the workflow are –
Asana
Basecamp
Trello
Jira
Hive
11. Augmented writing tools
In the modern-day job market, job descriptions and job advertisements do much more than inform candidates regarding vacant posts. Job descriptions are the first touchpoint between candidates and the client's employer brand.
Augmented writing tools use data-driven feedback to help you create job descriptions and advertisements free from discriminatory language and accurately portray the client's work culture. It encourages the candidate to identify themselves with the brand identity.
Some prominent software you can try are –
Text
Gender Decoder
JobWriter.io
Peppertype.ai
Conclusion
To wrap up, for every step of the recruitment cycle, recruiting tools are available in the market. Most of them have a try-for-free feature, so sign up and check out which of them suits best for your business.
Do let us know how you find this blog in the comment section.