The early days of recruiting can feel a little like being a hamster on a wheel. You have to continually be prospecting for new customers, building and nurturing relationships, and experimenting or you run the risk of stagnation and killing your business.

According to the American Staffing Association, there are about 20,000 staffing firms in the United States alone (not counting the offshore competition!). Competition is rough and you need to stay ahead of the curve and ensure your outreach efforts are highly focused.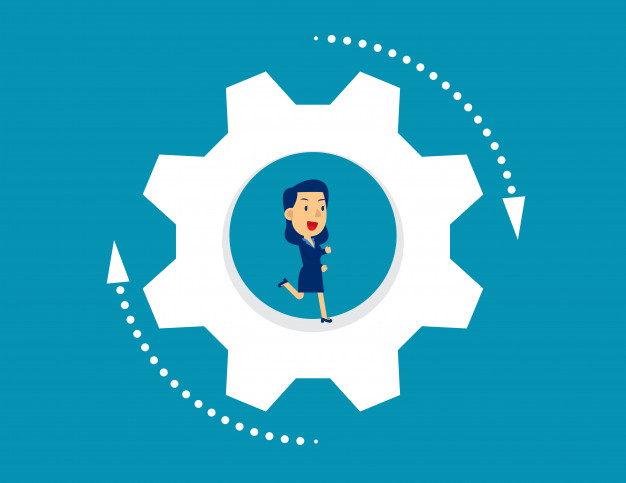 The law of conservation of intent
Let's assume a scenario where you have created a great LinkedIn profile. You have taken care of every bit of business development strategy like your customer segmentation, your ideal customer profiles, messaging, and kick-ass email sequences to reach your target audience. However, after all this, you only see a marginal increase in your conversion rates.

Sure, your other metrics will improve. You book more meetings, get more replies and see the benefits of your efforts compounding over time. For sure, in the long run, these improvements will deliver. However, you don't see an immediate uptick in results and billings.

A 10% increase in response rates and an associated 10% increase in your outreach to call ratio, doesn't always translate to getting 10% more job orders.

However, your job orders will see an increase of only 3-5%, Why? Because of the law of conservation of intent. Coined by Andrew Chen in this insightful post, the law suggests that the total amount of intent in the system is fixed. No matter how compelling the messaging and delivery might be, if the buyer doesn't have intent, it won't convert into a buying decision.

In the case of recruitment, some prospects will be high-intent prospects that deliver the job orders, while others are of low intent. You cannot increase this intent, and to attempt that is a waste of time. You simply focus on the high-intent prospects.

Capturing intent is the holy grail of all marketing activities. This is what makes Google such a successful business; they know exactly what people are looking for! They understand and capture the intent of their customers. That said, how do you capture intent in a recruiting and staffing business?

You go where the intent to hire culminates! Using job boards and career pages. This is where you know for sure that there is a definite hiring need and a budget that goes with it. Proactively going after this intent is what we like to call chasing demand, instead of waiting for demand to be generated.

How do you effectively chase demand?
Chasing demand involves scouring job boards and potential customers' career pages to see what they are hiring for. Once you find an opening that matches your niche, you work to deliver the right touchpoints to that customer. This approach to prospecting is tough work and involves many mundane hours of looking through job posts and being meticulous in your approach. However, if done right, it can drive immense returns. Here's how you can effectively get started.

Catch intent where the hiring intent goes

Job boards aren't just useful to find new candidates. They also help recruiting agencies find new clients. Companies hiring through job portals have an active need that your recruitment agency can fill.  By scouring job boards and careers pages, you will know when your target customers are hiring and catch intent. 
Keep a tab on your best-fit customers and keep checking when they open a new role that's right up your alley! One way of doing this is by creating a job alert on Indeed or google for jobs. You can also create job alerts on LinkedIn's professional version and other relevant job portals within your industry.

Don't just stop at job boards- go through company career pages as well. A lot of times, your target customers will not post jobs on external job boards, but publish just on their own careers page. You can keep a tab on their careers page manually to see if there are new relevant roles open for you.

Once you've identified an opening that might be a great opportunity for you, you can go to LinkedIn to find out the relevant hiring manager. Once you have narrowed down on potential hiring manager(s), this is the perfect opportunity for you to show off your expertise and stand apart from the crowd
Okay, So now I know the potential hiring managers. What next?

Now, you need a plan to engage these prospects. Cold emailing might get a bad rap, but despite what people say, they are the most effective methods of outreach!
You need to do two things.

1) Get their attention – Create personalized and effective messaging to get them to pay attention to you.
2) Design your messaging in a way that establishes you as an expert that they can trust and rely on.
A great way to get started with this is using some cold email templates with high proven response rates for a higher chance of capturing the hiring manager's attention!
How do you convince the hiring manager that you are right for the job?

Map a typical hiring manager's journey in the hiring process. For example, with your experience in the niche, you can probably assume that near the third week of the job opening, the hiring manager might be interviewing the early candidates.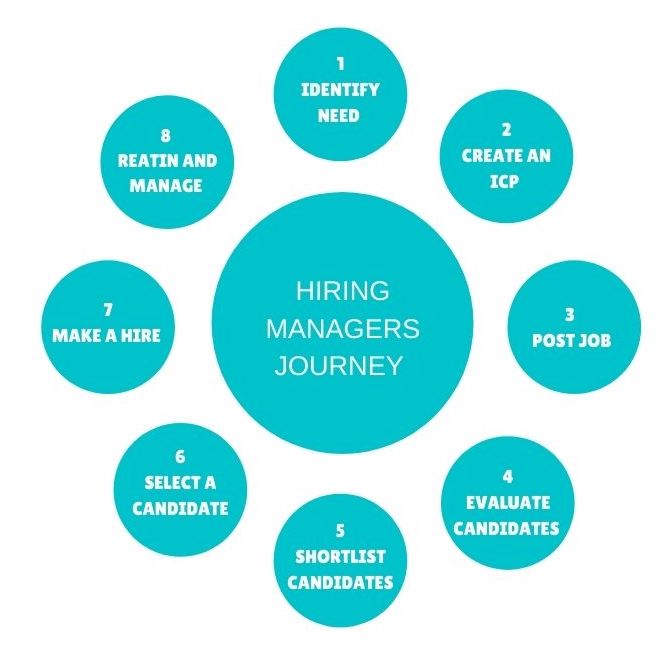 Deliver pointed touchpoints that deliver great value to the hiring manager. For example, you can deliver an email with some top-notch advice on how to interview sales reps!
Consistently deliver value in all your touchpoints that show that you know your stuff and are not a run-of-the-mill recruiter.
Keep your CTA simple – A short chat to see if you can help them build their A-team!

Also, check How To Create The Perfect Recruiting Sales Pitch?
When should you deliver your touchpoints?

Your touchpoints can either be delivered as soon as the job is opened, or delivered after the job stays open for 30 days. Both timelines come with their pros and cons.
Immediate outreach:

Pros
Cons
Every hiring manager wants roles filled as soon as possible.

The hiring manager has a fresh budget and filling the role is a top priority.

If they are already looking for a recruiting partner, it becomes easier to engage with the manager.
You may be one of many reaching out

If the hiring manager has confidence in her own internal recruiting team, it will be hard to engage and reengage again later.
Outreach after 30 days:
Pros
Cons
If the job is still open, you know they aren't doing very well in their search efforts.

You are reaching out at a time when this might be an emergency.

The Hiring manager is desperate. She has probably reasons to believe that their internal recruiting team might be stretched thin to give her the right candidate.

The role may have already been filled and it's possible the hiring manager just hasn't taken down the post

They may have already chosen to engage with another recruiting agency

They may already have enough candidates lined up
With tough competition, your efforts need to be highly focussed, or much like the hamster wheel, you could just be running around in circles and achieving no visible results.
You need to ensure that in your prospecting and outreach efforts, your communication is personalized, you are contacting decision-makers and people with budgetary control, capturing the intent of your customers, and pursuing high-intent leads.