Linear scaling doesn't work, not anymore. Now, you might ask, what is linear scaling? Simply put – A linear scaling model operates on the concept that the more effort you put in, the more output you'll get. For example, if you increase the number of sales calls that you make by 50%, your sales should also increase by close to 50%. However, it just doesn't work like that anymore. At the turn of the last decade, this was the playbook of almost every B2-B business out there. Now, B2B buyers are much more tuned in and your business competition is just a google search away from them!
In today's landscape, just working the phones until you get enough meetings is no longer an effective strategy. The simple reason is that prospects have moved on from cold calling.
The cold call response rate of 1:6 has now gone down to 1:22! And it's not getting any better. Just making cold calls don't work anymore. Now, I am not saying call your prospects. Making the calls, but relying only on cold calls is like taking a butter knife to a gunfight.
The recruiting industry is challenging, fiercely competitive, and has an extremely low barrier to entry. It's a business of networks, relationships, and playbooks developed over years and years of learning. These factors make it hard to scale a recruiting business. However, it doesn't have to be.
The purpose of this article is to give you a step-by-step approach to breaking the shackles of linear scaling.
1. Market Mapping
As a startup recruiting business, your best weapon is your ability to understand the market and deliver outcomes, both for clients and candidates. It is important to be laser-focused in identifying who you serve. The first step is building an Ideal Customer Profile (or ICP).
A step-by-step guide to building an ICP for your recruiting agency

1.1 Interview your best repeat customers
It seems banal but your best source of insight into your customers is your customers themselves!

Talking to your customers can be an eye-opening experience. These conversations with your best customers can prove several of your assumptions wrong, help you understand the thought process behind them choosing to work with you, and help you put yourself in your customer's shoes.

Some questions you can ask your customers to build your ICP

What made you decide to engage an external consultant for your search project(s)?
Why did you choose our firm for the search project?
What were the biggest concerns you had before working with us?
What is the single best reason for you to work with us again?
1.2 Understand your customer's firmographic data
In order to understand your customer's pain points, you first need to establish what kind of business they are. You want to make note of specific things like the client's company size, industry, and geographic location.
Some things to consider:

What is the client's team size?
Do they have an internal recruiting team? How large is it? What are their strengths and weaknesses?
What's their hiring velocity & volume?
What is their approximate annual revenue?
How old is your client's company? What is their current growth rate?
Does your prospect have decision-making power and control over the budget?
Is the senior management's focus on growth or on the bottom line?
How many positions are they hiring for at that point in time?

Here's what a sample ICP for a Recruiting Agency might look like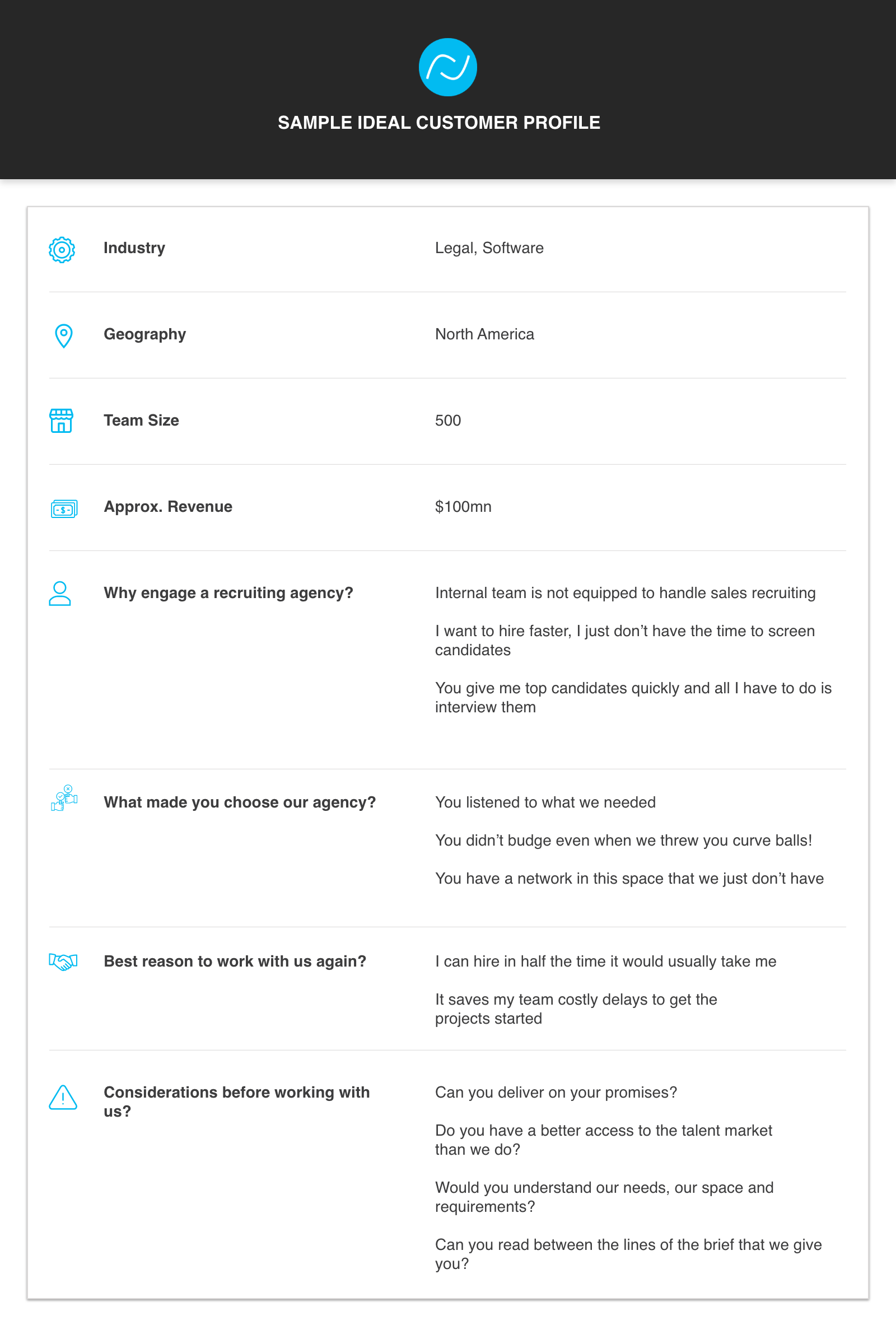 When you actually get down to creating an ICP, it will be challenging to compile all your data and insights into a single profile. You may need to create multiple ICPs. However, for the sake of clarity and efficacy, don't go beyond 2 or 3 ICPs. The things that you cannot define in these profiles are not worth focusing on.

It is also important to note that these profiles are not static and will change over time. Your client's current needs and pain points will not necessarily reflect what they'll want or need a year from now. Your ICPs must be revisited a couple of times a year to evaluate their relevance.

2) Segmenting your market
Segmentation is the process of dividing and breaking down your market into groups, or segments based on specific characteristics. There are multiple ways by which one can segment their market. Each segment derives a distinct value and benefits from you.
As a recruiting business, you need to identify two things in your market segmentation: Pain and Wants.
For example,

Acme has just closed a Series B round and Wiley Coyote, Co-founder & CEO, is looking to rapidly expand its sales and marketing teams. Their internal team is not equipped with helping them rapidly scale talent acquisition.

She/he has worked with agency recruiters in the past but without much success. The biggest pain is that they don't understand Acme's needs and culture to get them the right talent. In the end, the team spends way too much time screening and interviewing unqualified candidates. She/he wants someone who understands their needs and gives them a small number of great candidates that they can hire quickly.
Wiley Coyote is VP of Sales at Acme Inc, which is a large player in personal explosives. As Acme expands in newer territories, they are looking to expand its sales team. His biggest pain is that his internal recruiting team has no pipeline for geographies where they want to expand! He wants to have someone on board who can help them understand the lay of the land and get the best sales talent out there!
Another great way of getting a better understanding of your market segments is by building a positioning canvas. Originally developed by April Dunford, a positioning expert for her book – Obviously Awesome. 
The purpose of the segmentation exercise is to understand who your customers are and what matters to them. While pains and wants are a great framework, they have limitations in capturing the nuances of the business. This is where a positioning canvas comes in. It can help you capture better nuances.

Here's an example of what a typical positioning canvas might look like for a B2B sales headhunting B2B PR firms.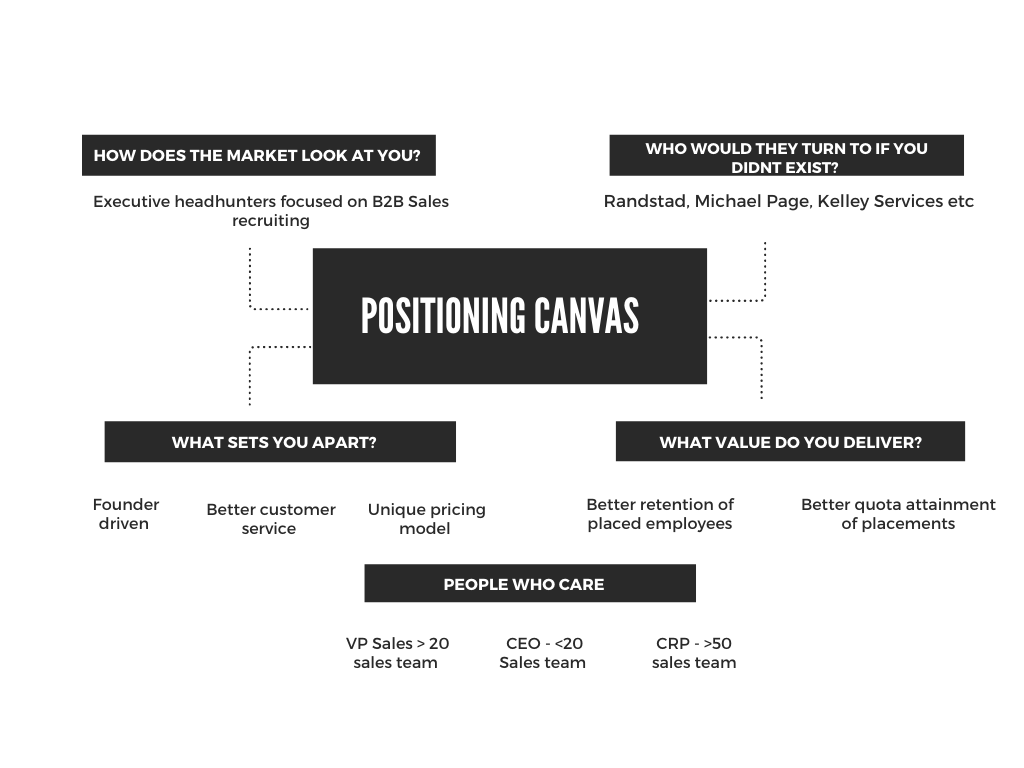 The purpose of segmenting is to identify two things
Who your customer is
What they care about
Once you have a clear idea about these two, you can build messaging strategies for your customers, informed by your segmenting exercise. 
3) Develop messaging
You've probably guessed it. Each segment is unique and needs a differentiated messaging strategy. You have to approach each of these segments with what matters to them most! The pain points and wants of a CEO with 100 staff members are vastly different from the CEO of a company with 1000 staff members. 
In order to develop your messaging, you need to make sure that you engage with your prospects, rather than speak at them! If your messaging doesn't resonate with your prospect's pains and priorities, it is going to find itself in the inbox abyss or worse – the dreaded spam folder.

To prevent that from happening, here are a few best practices that you need to follow
Personalize, Personalize, Personalize! If you don't, your messages just become spam.
Deliver different messaging and value propositions to each of your segments
Clearly address the values, benefits, and pains that you've identified for each segment
Get to the point quickly! Otherwise, you risk your messaging getting lost between irrelevant text.
Have a single call to action that doesn't require investing a significant amount of time.
4) Prospecting and Closing
Prospecting is like second nature to agency recruiters. We prospect for new clients and candidates all the time! While this isn't a hard task to do, the competitive nature of the recruiting and staffing industry poses a few challenges. 
There are several ways of prospecting for new clients. However, the medium that you decide to deploy will determine who your clients will be. To build a successful business, you can't be dependent on just one but rather a combination of these techniques. 
4.1 Networking and events
As well connected as we are in today's digital world, there is nothing better than physically being in the same room as target clients and striking up a conversation. This is where industry events come in. Attend as many networking events as you can, get the word out about your business, and establish a relationship with prospects in the room.  
However, networking is not the most viable option for everyone. Blind networking without specific direction may not bring you a single dollar in revenue, even after spending time and money on it.

Here are some preconditions where networking is the most effective
The conference means you will generate enough senior-level leads who can give you a steady stream of business. If you are going to get one-off search order from them, this is not the right forum for that.
You operate in a geographical area where you can be physically present.
Your target for the conference and event-based prospecting is less than 1500 prospects. The conference and event have a reasonable presence of decision-makers who control enough recruiting budget so that you can build repeat business with them.
4.2 Prospecting on LinkedIn and other online directories – the good old-fashioned way!
This is the most popular way of prospecting new clients and with good reason! Recruiters live and breathe LinkedIn every day. With several industry-specific communities on the platform, it is fertile ground for prospect discovery. LinkedIn also comes inbuilt with several tools and integrations that make the process very smooth and easy. 

This method is ideal when…
You have a large number of potential prospects to cover
You don't limit your business to a particular geographical region
Your potential customer pool is larger than 5000 potential prospects, making this the only way to scale
You have absolute clarity on who your potential customers are
You have the resources to consider hiring a Virtual Assistant to prospect for you, as it is extremely time-consuming.
This method supports both small and really large ticket-size placements.
4.3 Chasing demand
Prospecting by chasing demand can drive immense returns if done right. 
Demand chasing involves scouring job boards and potential customers' career pages to find roles that they are hiring for, and then delivering the right touchpoints to the customers with openings that match your niche. 
Let's break it down:

Let's assume you operate in the niche of hiring sales executives and sales leaders in the software and IT sector.
You then need to keep a tab on your target customers and continuously check for new sales role openings in your niche. You can do this by creating job alerts on relevant job portals and company career pages.
Once you identify a relevant opening, you can connect with the hiring managers, establish yourself as an industry expert that they can rely on, and convince them that you are the best person to fill their open roles!
Demand chasing, however rewarding, is extremely time-consuming and requires some amount of capital investment.  It is best suited for executive retained searches and contingency recruiting businesses. 
None of the methods that I've explained above are easy things to do. Building a recruiting business that scales with you is a challenging task. However, for years, B2B sales experts have worked to develop methodologies like these and playbooks that can make life a little bit easier for you and help you acquire a predictable and steady stream of clients.