Proactive recruitment is focused on sourcing, engaging, and attracting candidates ahead of hiring demand. With the ever-increasing time to hire and cost per hire, it makes sense for recruiters to engage their candidates proactively and stay ahead of the hiring demands.
Unlike reactive recruiting, proactive recruiting doesn't depend on candidates applying for a position after it's open. Instead, proactive recruitment focuses on identifying talent before its demand, establishing contact, nurturing relationships, and ultimately making the candidate interested in an open opportunity.
Proactive recruiters are much more like marketers and/or salespeople and tend to treat their candidates as customers. Candidates once sourced enter into your sales funnel or rather a series of stages ultimately resulting in the candidate working for your company.
Also, check 7 Uses of Recruitment Automation For Your Hiring Process
The Proactive Recruitment Methodology
The best way to convert great talent into candidates and promoters for your recruiting process.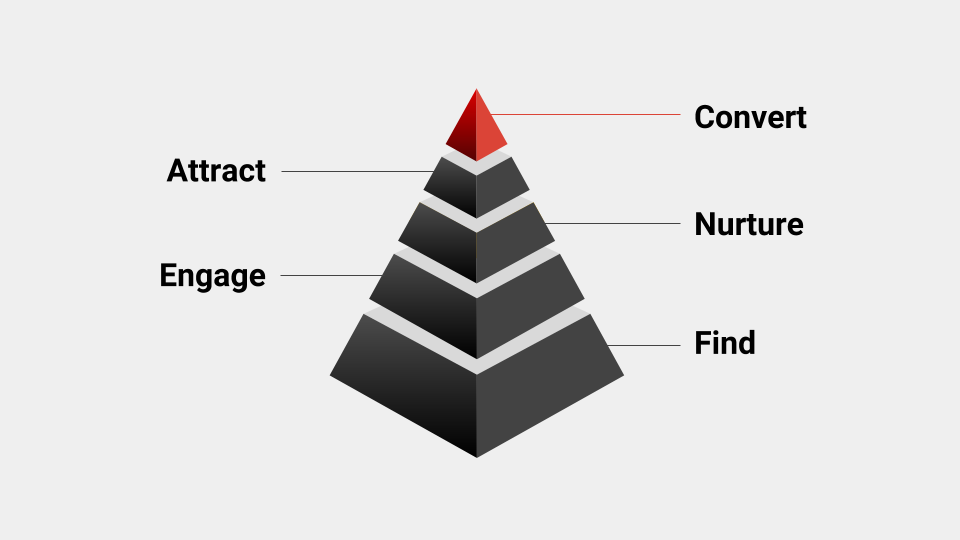 The proactive methodology covers the entire five phases (Find, Engage, Nurture, Attract and Convert) which turns strangers into employees and promoters of the company. Tools like Recruiterflow help you adopt proactive recruitment at your organization.
The Five Phases of Proactive Recruiting Explained
Find
You don't want to just reach out to anyone. You would probably want to reach out to only those people who are most likely to become candidates and ultimately happy employees. But the question is how do you find them?
You need to talk to your team and respective hiring managers to know more about the ideal candidate and create an ideal candidate persona. It helps you narrow down your search for relevant candidates. (Check out our candidate persona template used by more than 350 amazing recruiters around the globe!)
Find these people on various social platforms, your own candidate database, relevant communities, events, and channels.
Always create candidate segments or pools within your passive candidate database. These pools can be based on skill set, years of experience, education, past companies, or any other trait which makes targetting candidates at scale, better. A final and more passive way to find candidates is to talk to managers and leaders at your company and ask if they're part of any mentorship programs where they may have crossed paths with high-potential candidates. They may be able to make an introduction.
Engage
Finding a relevant prospect is just one part! Your proactive recruiting engine would be no good if you aren't able to attract their attention. Your first touchpoint is really crucial and it helps you start a new relationship with the prospect. Remember, they are not your candidates till now, they are just prospects. You should never try to oversell your company or a job to these prospects. A well-drafted first touchpoint should talk more about the candidate than your company. It should be super personalized with a clear call to action.
Have you ever seen a venture investor making the first contact with a startup? It's never about funding. It's more about how well the startup is doing and that they would like to know what the startup is up to. Do the same with candidates! Opening up a conversation in whatever way works best for them – with emails, calls, or meetings.
Also, check the Recruitment Process Framework for Startups
Nurture
One of the most critical parts of proactive recruiting is nurturing your relationship with candidates. This is very similar to sales, where salespeople try to create and nurture relationships with their probable customers.
As salespeople have a sales cycle, which depends upon the complexity of the product (and various other factors), proactive recruitment also has a candidate interest cycle, the duration of which depends upon the difficulty of filling a position. A junior-level business position will have a shorter candidate interest cycle than a senior data scientist position.
Nurturing your relationship with candidates is really important during the candidate interest cycle. It keeps you as a recruiter always at the front whenever they are considering a job change.
Nurture your relationship with candidates using content, occasional emails, sharing interesting insights, recent achievements,s or any other campaign idea which strengthens your relationship. Use a candidate relationship management software like Recruiterflow to create talent pools and nurture your relationships with them.
Attract
You're on the right track. You've found the right people and converted the right prospects, established a relationship with them but now you need to transform those prospects into candidates. How can you most effectively do this? The proactive recruiting tools available at this stage to make sure you're closing the right candidates at the right time, faster and easier.
Using Recruiterflow, you can know at which stage your candidates are. Engage more with candidates in the later stage who have more chances of joining your company. Create a series of recruitment emails focused on useful, relevant content which builds a relationship with a prospect and helps them become more ready to apply.
Convert
Once a prospect applies, make sure they have a remarkable candidate experience. They have a much higher awareness of your business and they have built a relationship with you. So, it's even more important to delight, and make your candidates happy. If you do, they will not only apply and join themselves but also refer their friends who might also be an ideal fit for your company.
Be transparent with them, help them prepare for the interview process, and even if they get rejected, be good with them. No matter what the outcome of the process is, you should keep these candidates in your talent pool. You might need them or their friends later 🙂
So, the next time when you are hiring doesn't rely on job boards, careers pages, and other reactive sources. It's useless! Instead, build a proactive recruitment engine where you have engaged prospects in your pipeline way before the job opens. Hire faster and quicker with the proactive methodology.