Over the last few years, the gig economy has changed the way people look at work. As finding good talent keeps getting difficult, businesses are looking at innovative ways to attract them. The gig economy trend has transformed the way recruiters work as well. As a result, in the past few years, we've seen the meteoric rise of freelance platforms like Upwork and Recruitloop.
Why working with freelance recruiters can be beneficial?
Recruiting has gone through a fundamental shift in the last few years. It is no longer enough to post your openings on a few job boards and start getting applicants. To recruit incredible people, you need to proactively source passive candidates. To accomplish this, you need sources and recruiters.
Working with freelancers gives you the flexibility you need. Freelancers are also way more cost-effective for small and medium businesses. As more and more people wake up to the gig economy, it also makes it easier for companies to hire freelancers from various freelance platforms. It's a win-win for everyone! According to Forbes, by 2020, 40% of the US workforce will be independent contractors. This helps them to juggle between work and personal schedules.
Fantastic recruiters and where to find them!
The gig economy has caused a great rise in the number of platforms to find freelancers in the last decade. Here are a few excellent platforms that will help you find among the best freelancers in the world. 
Upwork is the world's largest network of freelancers. It offers freelancers of a wide range and many disciplines. The best part about Upwork is that everyone on the platform has a plethora of reviews. Reviews can help you filter out great people that you want to work with.
Finding people on Upwork is easy. Post your job with the skills required. Browse the suggested candidates and the candidates who apply for the job. There are a bunch of search filters available to filter down your search results.  You can then browse through their profiles, work experience, success stories, and ratings. Most freelancers on Upwork quote the price in USD/hour. Yet, you can talk to them and hire a freelancer on per-project basis as well. You can also review the bid proposals and schedule a direct chat with the ones you're interested in. Their in-built chat feature makes it easier to communicate with your freelancers.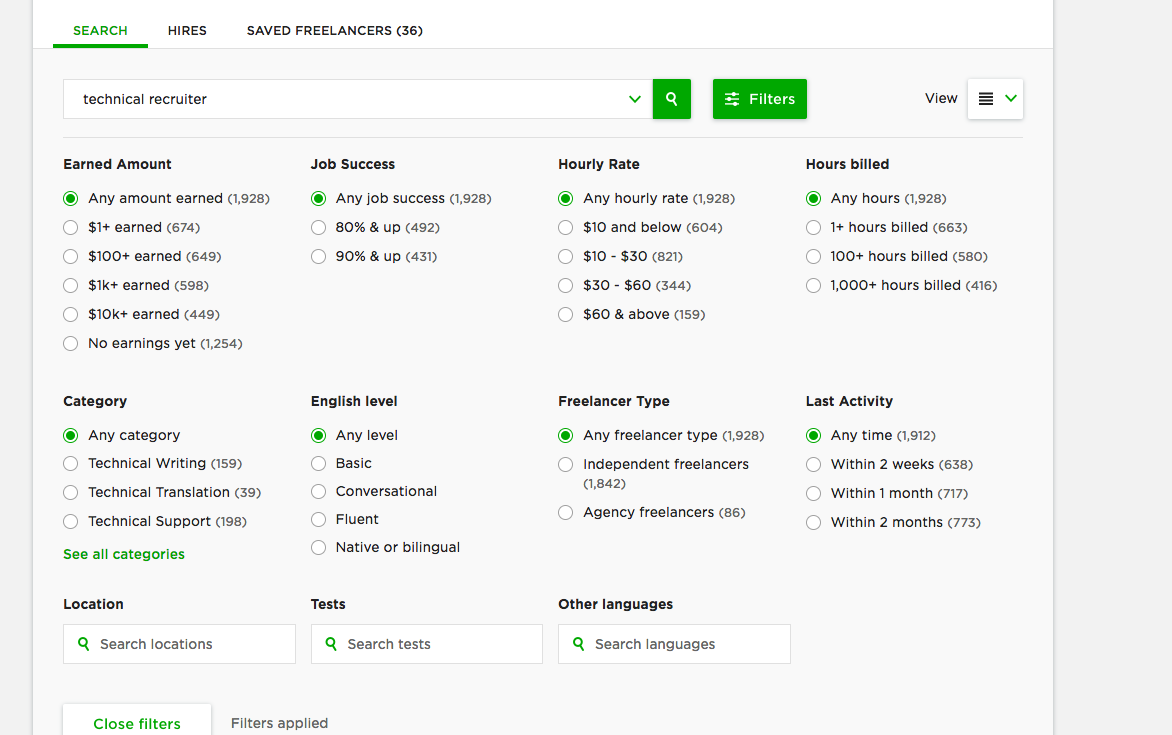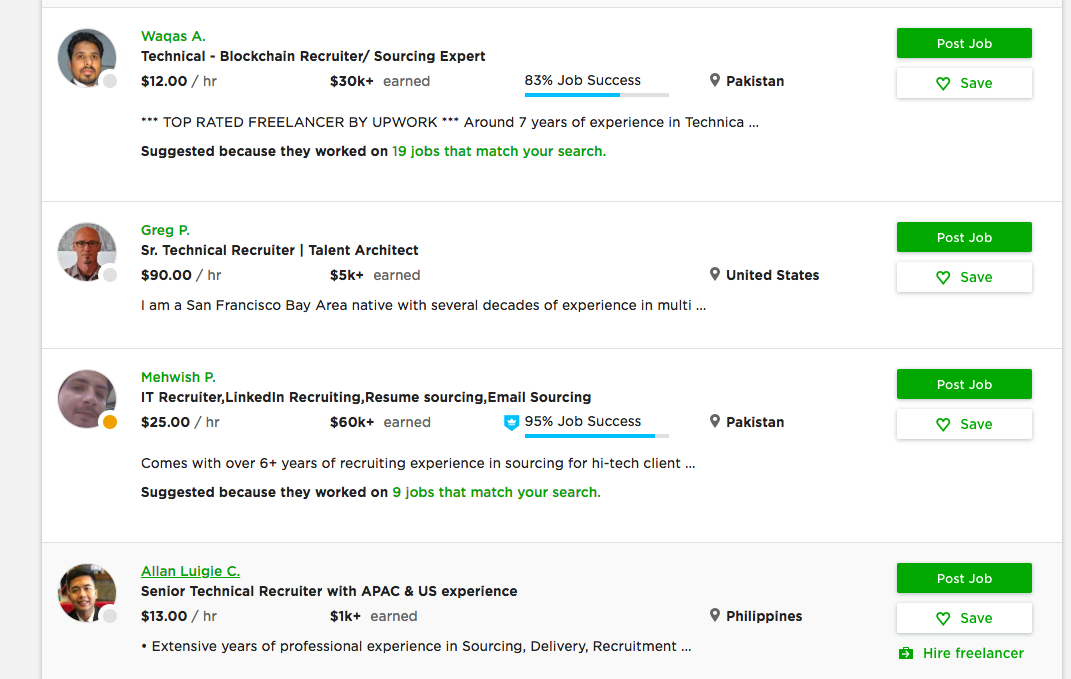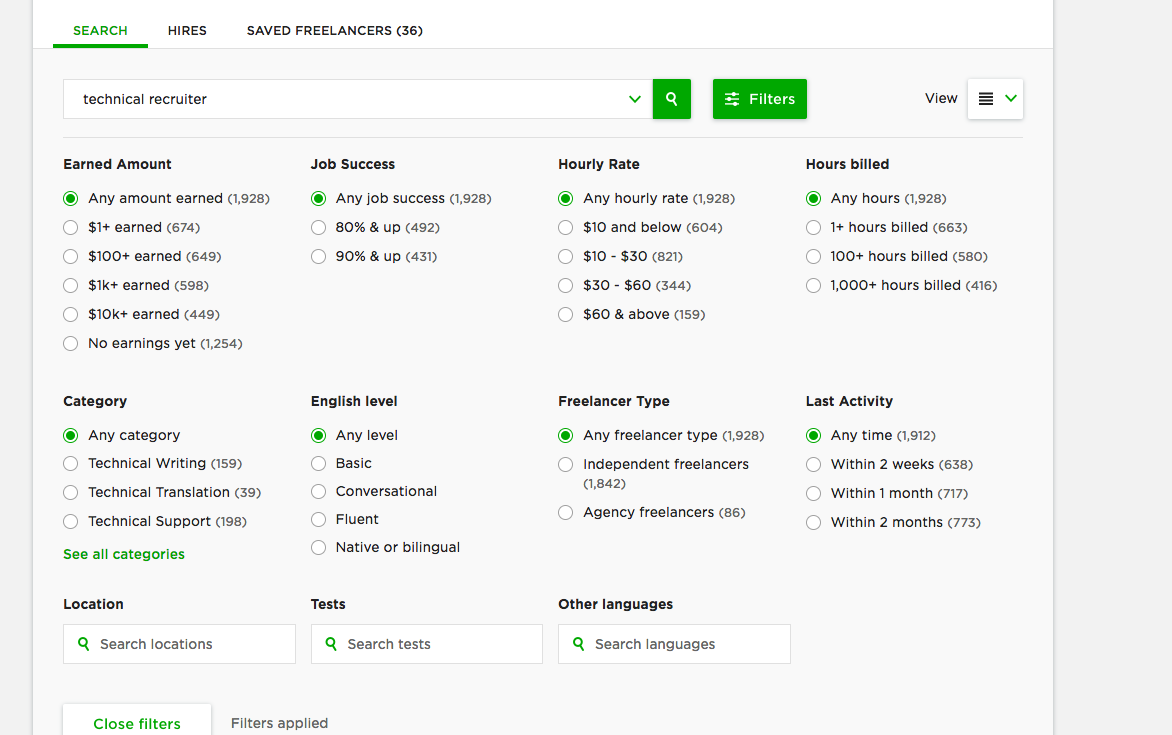 As the name suggests, recruitloop is built specifically to hire freelance recruiters and sourcers. It is arguably one of the biggest directories of freelance recruiters who might be ready to work with you. The best part about Recruitloop is that recruiters go through a rigorous verification process. This ensures that every recruiter on Recruitloop meets a minimum qualification bar.
Recruitloop connects companies with expert recruiters to help your hiring needs. You can sign up for free, and mention your recruitment needs. Get matches with their profiles and ratings to make your choice.
Also, check our guide to hiring for startups.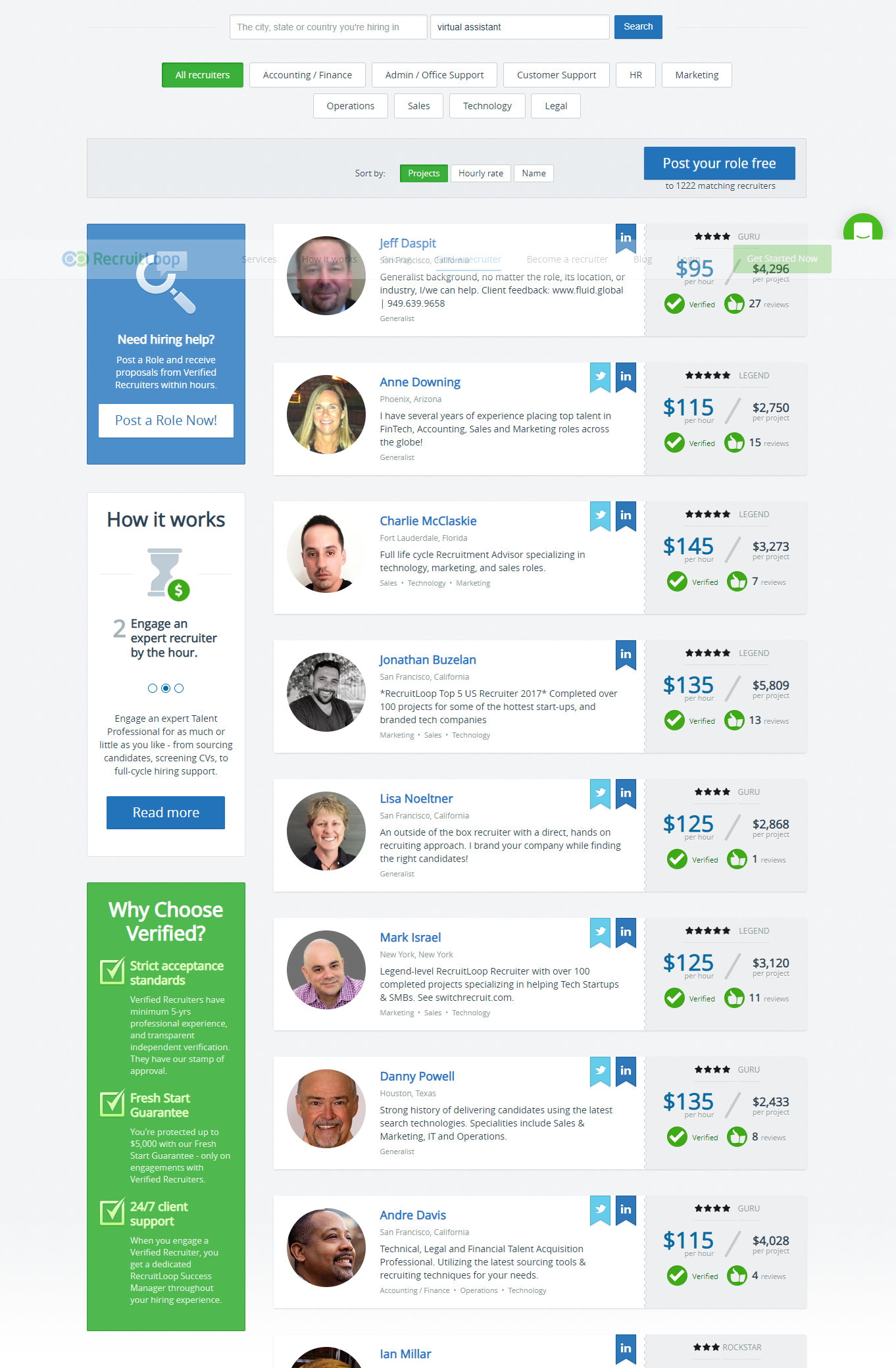 Recruiterly
Recruiterly is a new kid on the block. What it lacks in size, makes it up for with much better support. Recruiterly lists both independent recruiters and small and medium-sized recruiting agencies. The best part is that you can sort recruiters by the industry which they might have experienced them.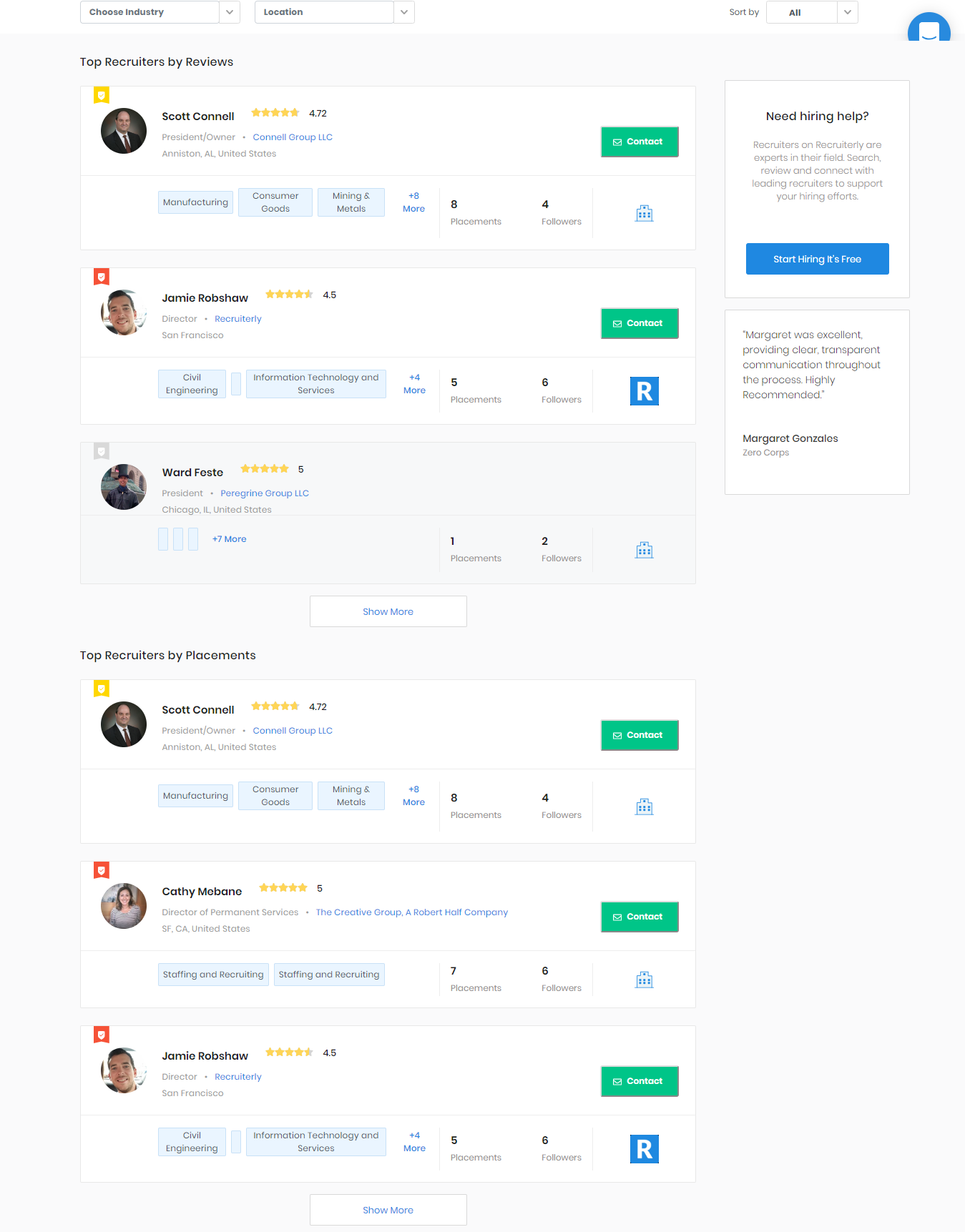 Peopleperhour allows you to describe and post your project and expectations. Their embedded artificial intelligence finds the best match for your project. Based on the fit, freelancers send you customized quotes and their experience. All you need to do is review the potential candidates and quotes, pay a deposit and start off!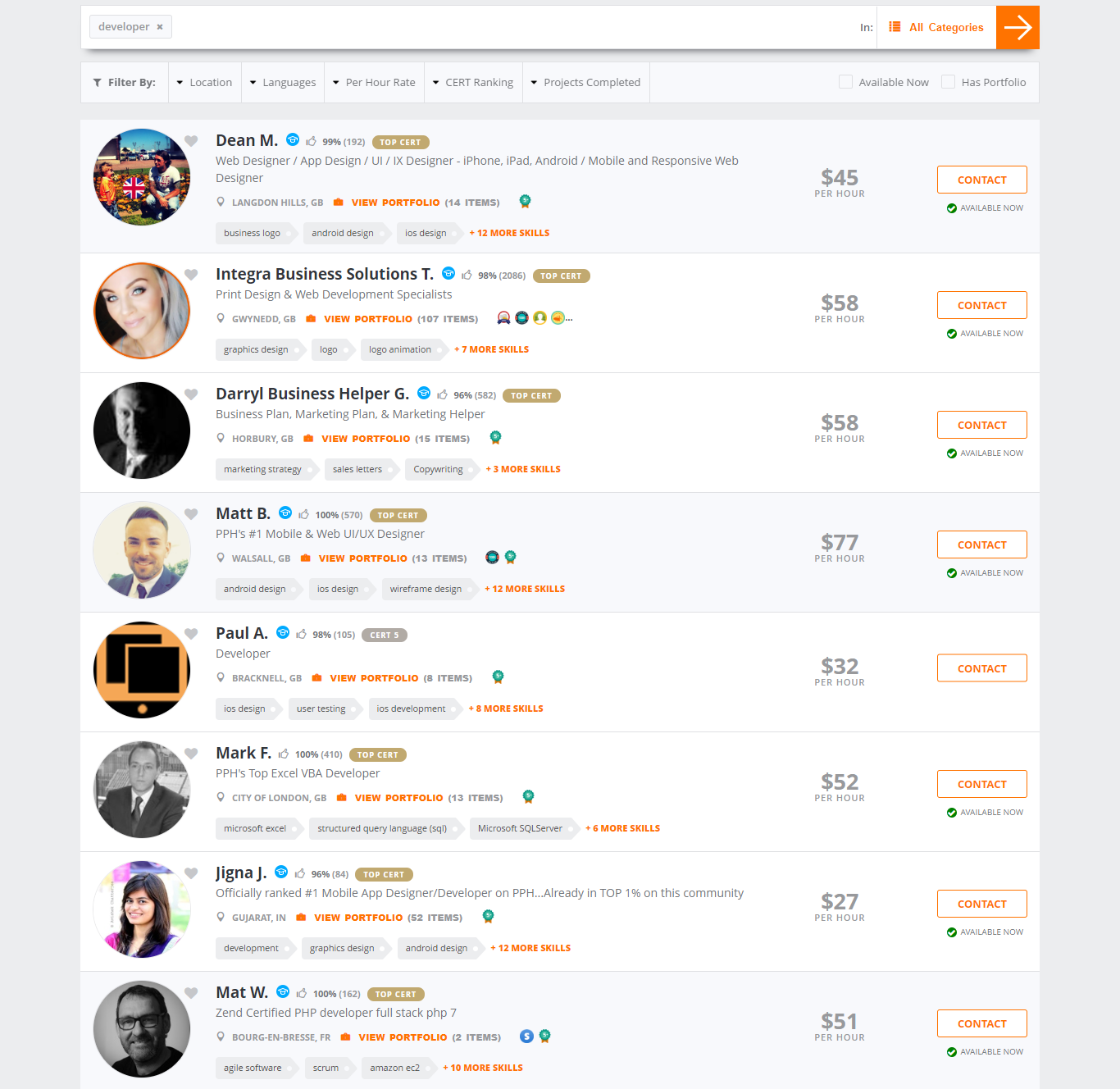 Modes of engagement
There are primarily two models of engagement with freelance recruiters and sourcers.
Sourcers and Virtual Assistants
When you hire sourcers or virtual assistants, they take care only of the initial stage of recruitment. They use tools to attract talent by data mining for passive candidates who are eligible. Sourcers and virtual assistants take care of the top of the funnel for you. They help you identify and source candidates and their contact details. In a few cases, they also take care of outreach but don't take care of coordinating and closing.
Also, check Magic Of Recruitment CRM In A World Of Virtual Work
Full Stack recruiters
With a full-stack recruiter, you have many more aspects of recruitment covered. They also take care of sourcing, lining up interviews, and screening the candidates. A full-stack recruiter will guide you and the candidate through the process, and build the relationship that frees your bandwidth.  They also make formal job offers and even ease the onboarding process.
What works best for you?
Freelance sourcers and virtual assistants work best if you
Have intermittent hiring needs

Don't have elaborate recruiting requirements with many rounds of interviews

Have bandwidth to do the screening and scheduling of interviews

Have confidence in your ability to close a candidate
Fullstack recruiters work best for you if you
Need someone to take care of the entire process

Are in a hyper-competitive market and you need closer to close the candidate

Have many rounds of interviews and need someone to help you through the recruiting process

Don't have the bandwidth for scheduling and coordinating interviews
Cost and Productivity
All of the above platforms allow you to review the work profile of the candidates who have applied and analyze the kind of work done in the past. This is helpful in filtering the right kind of candidates for your job requirement.
Based on the experience of some of our users, here are the approximate costs involved. For a mid-level developer role, with compensation of around 130k-150k USD, you may need to source and reach out to around 150 targeted candidates a week. Based on the difficulty of the role, it may take the sourcers anywhere from 8 hours to 15 hours to source 150 candidates. While the prices have a wide range, you can hire a tech sourcer in south Asia or eastern Europe. They charge anywhere from $5 – $15 per hour. However, more experienced tech sourcers in western Europe and North America charge a higher fee ranging from $30 to $100/hour.
Note: With Recruiterflow, the number of candidates sourced might be higher. Our customers can give their freelancers a way to source candidates from LinkedIn/Github with just one 1-click, making it simpler and more cost-effective.
The Playbook- A Step-by-Step Guide
Step 1: Getting on the same page with your sourcer
You need to communicate the requirements of the job to the sourcer. This will make it easier for them to search for the most relevant candidates/leads. Yet, there is always a communication gap in these requirements. It is essential that you get on the same page with your sourcer about the ideal candidates. A perfect way to do this is to have your sourcer source 10-15 candidates. You can accept/reject all of these candidates and give detailed reasons why you are doing so. This will give sourcer a better idea of what's exactly in your mind about the requirement of the candidate.
Step 2: Setting up outreach campaigns
Most of our customers use emails to do cold outreach to passive candidates. There must be enough analytics and feedback process in place before starting the outreach. Typically, the emails are sent from your email id and not the sourcer's. Sourcers source the profiles and put them in an automated email sequence to do cold outreach to candidates. Once the candidate replies, you can take it forward from there. But, if you have employed a full-stack recruiter, they will take care of the outreach and send emails from their ids.
Step 3: Sourcing on Steroids
At this stage, the VA or sourcer starts pulling out many leads or profiles through active and passive candidates. They source an average of 100-150 candidates in the week to look into. At all times, you need to keep track of the kind of candidates being sourced. Regular and continuous feedback must be provided to the Virtual Assistant. Do make sure that you communicate to your recruiter if there is any course correction that needs to be done.
Also, check Robin – Your sourcing and recruiting sidekick that lives in your inbox
Step 4: Handoff
Once enough candidates have been sourced, the sourcer can do a handoff.  The Recruiting Manager can close the position from the profiles in the pipeline.
Thousands of recruiters around the world use Recruiterflow to save hours of time and place more candidates every month! Schedule a demo to find out more!