We've had our users asking us "Is there a way we can add candidates to Recruiterflow straight out of inbox. " or "Does the chrome extension not work in Gmail?"
An average recruiter spends 94 minutes everyday sifting around their inbox and going back and forth between their recruiting software and inbox.
That's almost an hour and half of going back and forth between your ATS and inbox. Ughhhh! There was something wrong with that picture. We thought we should do something about it. We imagined how convenient would it be if you had a sidekick who would help you add candidates to Recruiterflow straight from your inbox!
Inbox assistant: Add candidates and files straight from your inbox (see the gif below)
Source anywhere: Open the chrome extension on any site(not only LinkedIn) and add candidate straight to Recruiterflow
Your notes are always there:

You can access any candidate and your notes about the candidate anytime anywhere – Including your inbox

!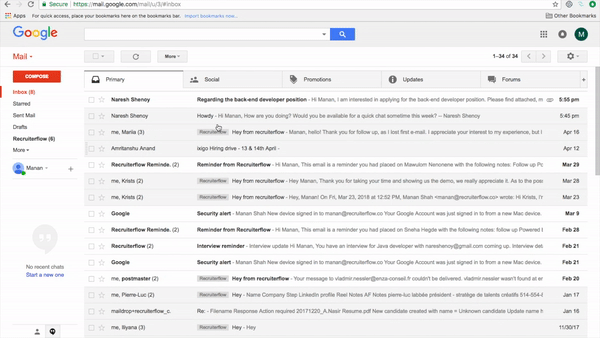 Inbox assistant:
Hate it or love it but emails are still the most preferred way of communication for most people. How many times have you had a candidate introduced to your over email by an investor or a friend?
It gets pretty cumbersome if you have to
manually
add these candidates to Recruiterflow
.
Well, no more!  Got a new email from your candidate? Robin will auto detect that the person you are talking to is a candidate and load the relevant profile. From here, you can write notes or edit candidate information.
The best part – is you can drag and drop resume and other files straight from your inbox to the relevant candidate profile on Recruiterflow
.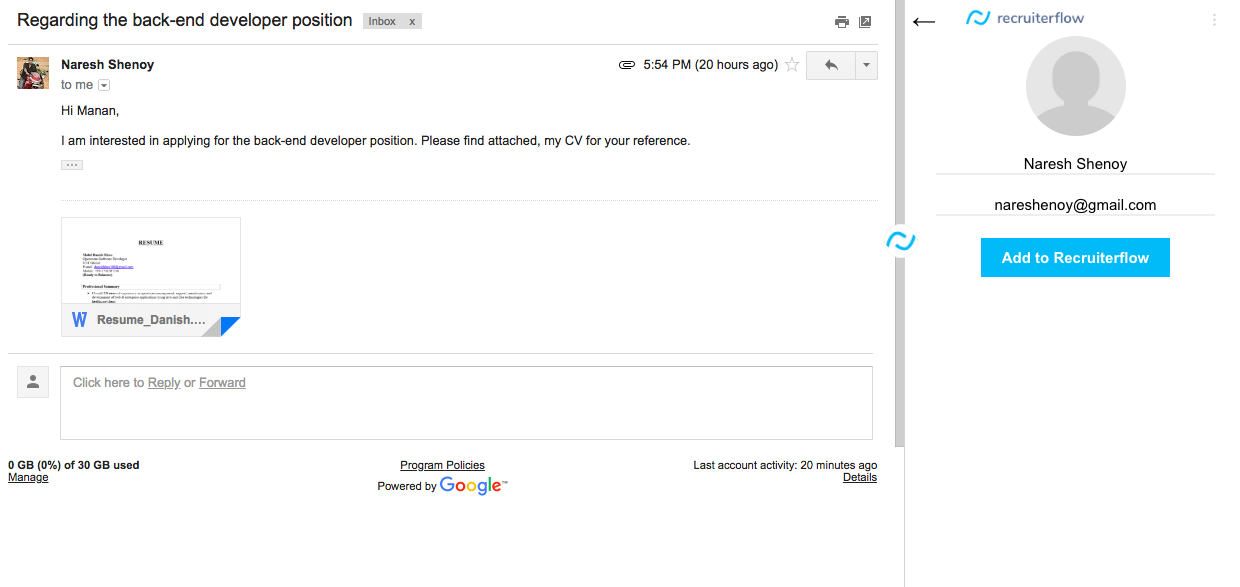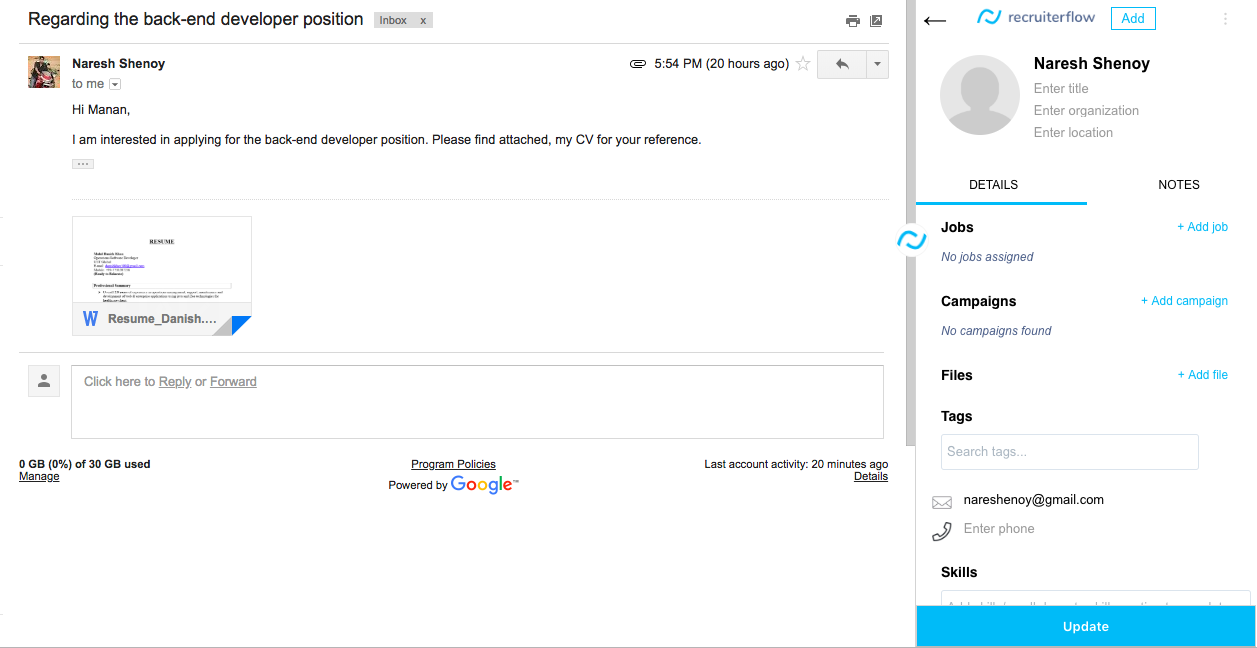 Source anywhere:
Great talent is anywhere – why should you restrict yourself to
just
LinkedIn.
You can open chrome extension on any webpage and add candidates straight to Recruiterflow using Robin
.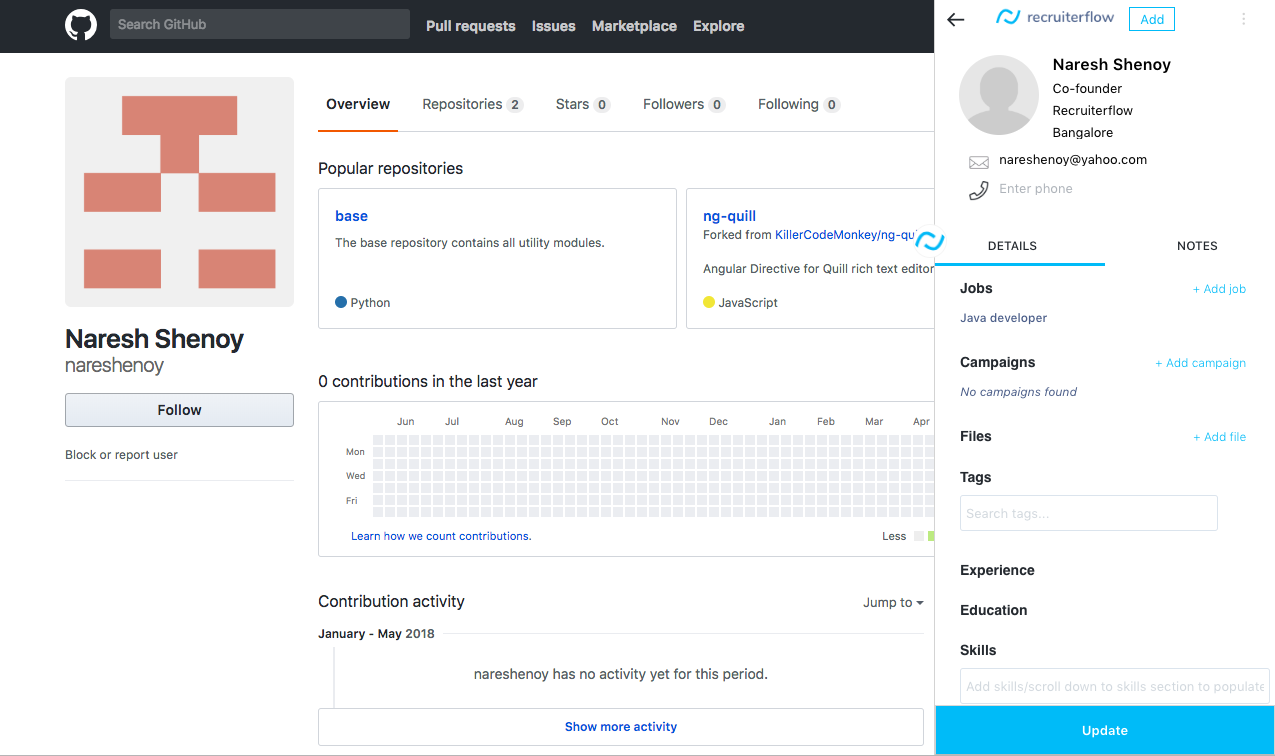 Your notes are always there:
Now I will be honest here. When we created the notes feature, we didn't know how our users are going to find innovative ways to use this feature. Notes have become a center stone for Recruiterflow users to maintain their observations and a hub to collaborate with the team members. Now, you can read and write a new note on any candidate from anywhere.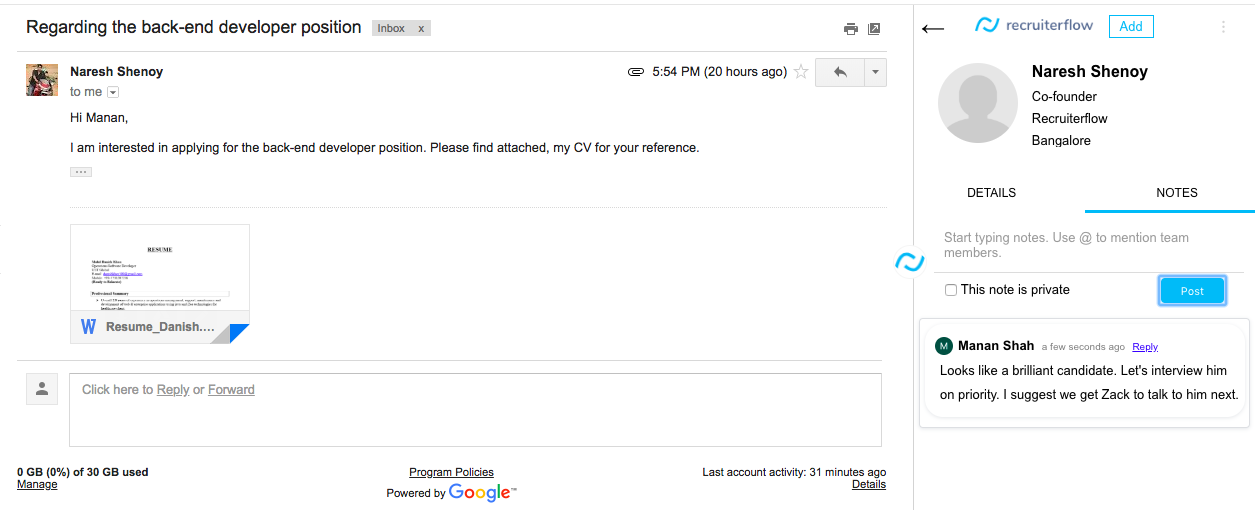 How do I activate Robin?
It's a simple 3-step process that will take you less than 30 seconds.
Install Recruiterflow chrome extension
Login to your Gsuite/Gmail inbox associated with your Recruiterflow account
Click on the Recruiterflow logo at the top and give chrome permission.
Note: Robin's inbox integration currently works only for Gsuite users. We will be launching a version for office365 users soon.