The final month of the quarter is here. I certainly hope you are crushing it and I am here to tell you about a few things we released that will help you crush even better!
The core philosophy behind Recruiterflow remains simplicity and our deep belief that simplicity drives productivity and performance. In our mission to help recruiters do more with their day, we are launching sales CRM v1.0. With this new release, we are adding an ability to organize and manage your sales pipeline with Recruiterflow. 
Here's what was released last month.
Create custom fields for all the entities – candidates, contacts, companies, and jobs.
Customize the columns in your contact and companies page
A company has a new field defined as status.
Each contact will also have a status: Either Lead or a Customer
New fields in the company profile: About, Team Size, Revenue, Industry.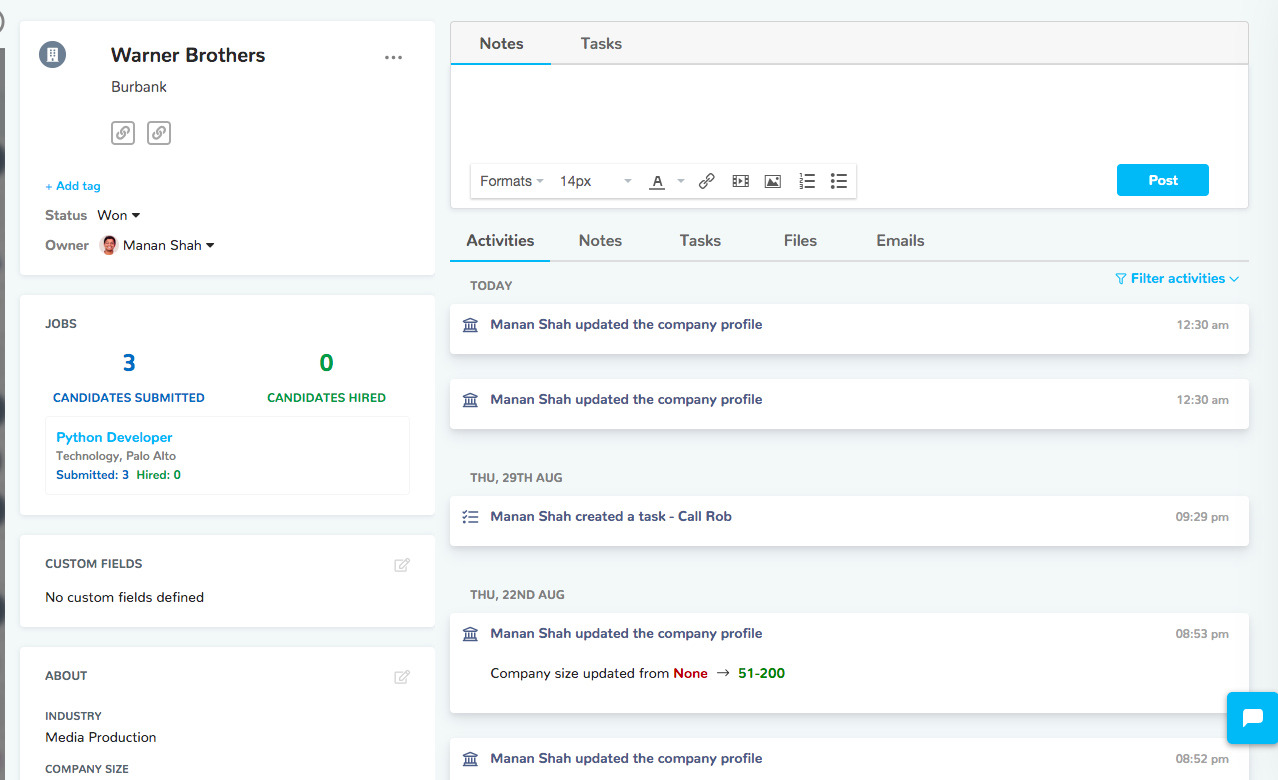 What does it mean for you?
Here are just a few of the new possibilities that this opens up.
Start prospecting with great ease! Easily differentiate between contacts that are already customers or just leads. 
Run email sequences to nurture your potential clients and keep them warm. 
Store critical information about potential customers like address (integrated with google maps), Industry, Revenue, and employee size. Slice and dice your customer base based on these parameters. For example, who are the warm leads that didn't close but we haven't been in touch for the last 6 months? 
With one click, get an idea of all the potential deals that are in progress and see what's going on with each individual company. 
Never let a lead go cold. Always stay on top of things with tasks and collaboration, now easily accessible on the company profile page. 
Find contacts in your database that match certain criteria based on different organization attributes (i.e. industry, revenue, location, etc. )
A few other product improvements were released.
Dice Integration: If you have an account with Dice, you will be able to push jobs to dice straight from Recruiterflow. 
Jooble integration: World's second-largest job platform that's immensely popular in Russia and Eastern Europe. 
Better Scrollbar experience for windows users. 
API now supports custom fields in contacts and candidates
Also, we are expanding our engineering team!
Shreyas joined our team last month as a Frontend Developer. He graduated top of his class from RNS Institute of Technology and worked with Bosch for two years! He has some awesome updates that will be pushed live over the next two weeks! Stay tuned for more. 
Until we speak again!
On behalf of Team Recruiterflow,
Manan!