Despite the immense need for techies, most recruiters would agree to this that finding very talented developers is too hard!. Developers are extremely high in demand and there is an acute shortage of talent in the market. To make matters worse, great developers don't hang out on traditional recruiting websites.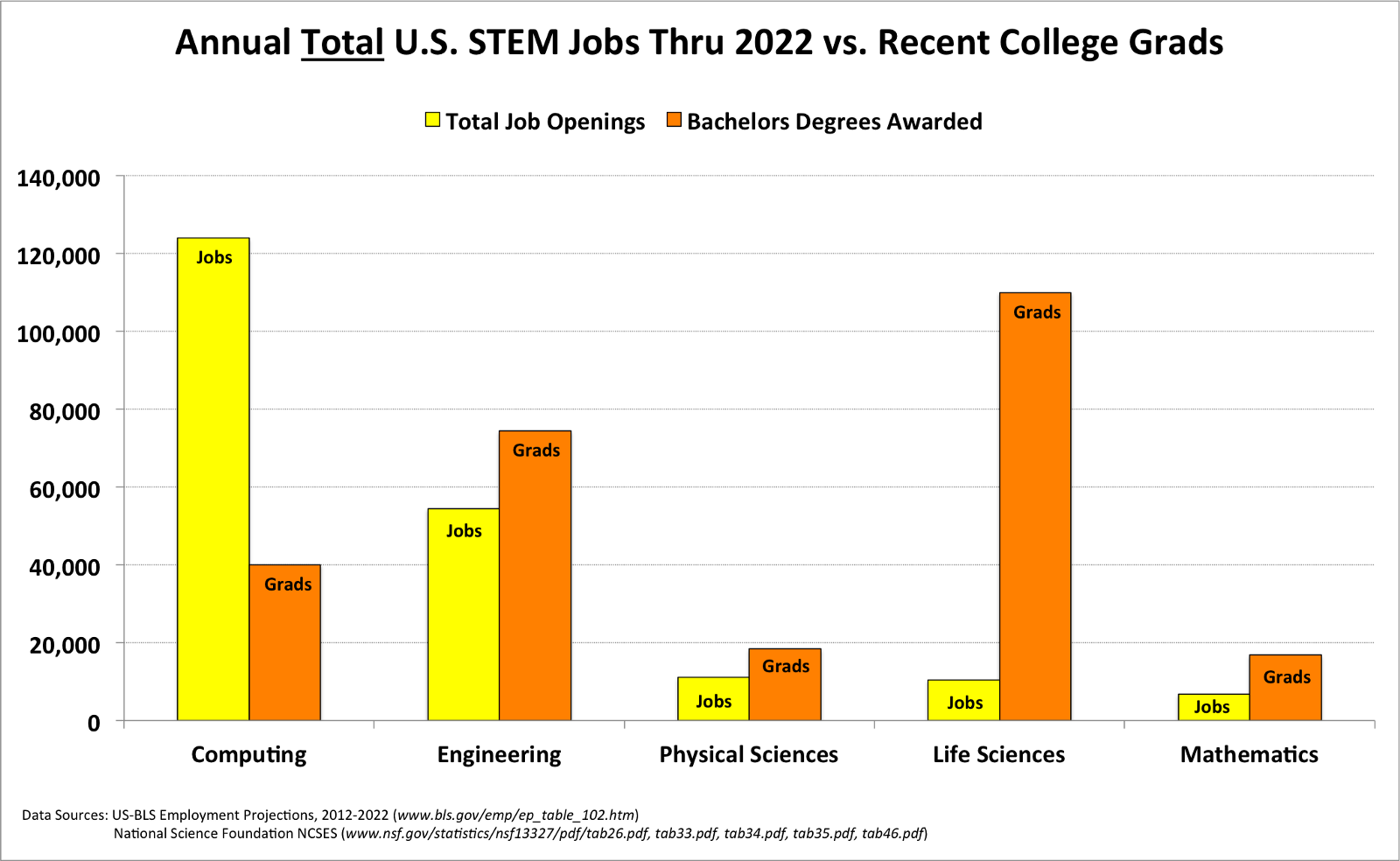 This graph represents the total number of job openings in the US market as compared to the total number of people graduating in the field of Science, Technology, Engineering, and Math each year. In the computing industry, there are close to 1,20,000  job openings while the average number of people graduating is merely 40,000 which caters to 33.3% of the total demand.
Also check, The hidden treasure of exceptional developers you never knew about
The traditional methods of hiring fail to lure the attention of developers. There are many challenges to it. Most of the time, developers stay connected within geeky communities that are beyond any non-technical person's reach. Finding a way to get through to these communities to find the best talent is very difficult. As a result, we lose out on the best resources here.
Recruiters are left with only two choices.
Advertise on job boards that developers actually use!
For recruiters, one of the most effective ways to reach out to such talent is through these portals that work exclusively with developers. They are definitely worth a try.
1. Workshape
Workshape is a tech-based hiring platform that believes in doing away with the traditional method of job descriptions and resumes. Their sentiment matching tool uses shapes to show what the candidate's ideal job is, and the kind of skills that the prospective job expects. This is an interesting premise and appeals to developers. Workshape is based in London and currently serves only the European market. 
You create a job opening on Workshape. Their algorithm finds you candidates interested in your position along with their projects, job history, GitHub repo. You connect with them directly. They promise a high reach out-engagement rate, quick profile matching, and cost-effectiveness.
The prices are different for varied requirements. Workshape allows you to register with them for free and upload your company profile to find out the right plan for your requirements.
2. Honeypot
Honeypot gives you a curated list of developers who might be eligible for your openings. They vet the developers with a code assignment that is thoroughly graded. It also checks the quality of code with various parameters. Honeypot team does a detailed future interest profiling of these candidates. This helps you to understand how they wish to shape their future and how best you can fit it into your company chart.
Register on Honeypot, set up your profile, and start searching for developers. You can identify candidates that interest you and directly invite them to interview. Honeypot also offers free visa support to speed up the hiring process. They also guarantee a high rate of responsiveness.
Honeypot doesn't charge until you have hired a developer. Once you've hired, they charge a 15% commission. They also offer three months full refund policy in case either party is not happy about making the decision.
3. Stack Overflow
StackOverflow is the world's largest and one of the most trusted online developer communities. More than 50 million developers visit this network and exchange knowledge.
Stackoverflow has a very consultative process. A representative from the team jumps on a call with you to understand your recruiting process. This helps them understand what would best fit your company. Based on that, they profile your company to attract good talent. Stackoverflow helps you connect within this community through candidate search, company ads, and more. They also provide an analytics team that will optimize and helps you hire throughout the period.
Once you register on Stack Overflow and upload your company profile, the sales team will get in touch. They will understand your requirements and suggest the best plan for you.
 4. PowerToFly
Understanding the power of diversity hiring is important to businesses in today's world. Diversity is at the top of the agenda for most recruiting leaders. Powertofly is designed to make that easier for you. PowerToFly is a portal that connects women with companies that are gender diverse and inclusive. They give you access to vetted, underrepresented female engineers within a month of your job posting.
In the first week, you share all the details with your PowerToFly associate and they will scan their already vetted database in 143 countries and more than 3,576 cities. In the second week, you are presented with candidates who are interested to join and would do so immediately. Finally, you start interviewing them in week three, make your choice and extend an offer. As simple as that! 
PowerToFly offers two kinds of subscription plans. The first one is basic and gives you access to hiring for a remote job at the cost of $298 per job ad for a month. The diverse engagement plan is customized with extra features, meant for those looking to hire on a long-term basis.
5. The Muse
Muse is not built specifically for developers. However, it's a job board that helps companies stand apart in a sea of job postings. It works with you to develop your employer brand and creates unique assets for you. Muse helps you stand apart in a sea of job postings and helps you attract your candidates with your culture and perks!
Also, check The death of a job board
How does it work?
At first, you talk to a Muse representative and they help you uncover and amplify your employer brand. Their team works with you to create videos, websites, and other custom assets for you to attract your talent. Muse also has its own job boards that allow candidates to sort through companies based on cultural values and perks.
Pricing
The pricing for Muse is not public. Due to the nature of its engagement, I think the price would vary in each case.
6. Builtin Network
Builtin network is a network of different websites and a localized community. It has chapters in New York, Seattle, Colorado, Chicago, Boston, and Austin.
How does it work?
Builtin is less of a job board and more of a community. It has different companies and other members of the tech as community members. Each chapter runs its own operations, events, and newsletters. You can purchase job slots that are then circulated with the community members as well as hosted on their website.
Pricing
Builtin has very transparent pricing published on each chapter's page. For example, BuiltinNYC charges $99/month for one job slot, $249/month for 3 job slots, and a custom plan for a premium membership. You have to talk to their representative for a premium membership.
Check out these platforms to recruit developers and tech talent much faster!