The father of advertising, David Ogilvy rightly describes branding a creation of genius, faith and perseverance. Creating an employer brand is no different! Your employer brand is central to your recruitment process and defines the people whom you recruit.
Why do you need to create an employer brand?
Today the power dynamic between the candidate and employer has changed. The unemployment rate in the US is at 4.6%, the lowest in 10 years. A number of experts have defined the current labor market as 'candidate-driven'. Today, candidates have more options than ever and this trend seems to be growing. Having a bad employer brand can cost you more than 10% per hire.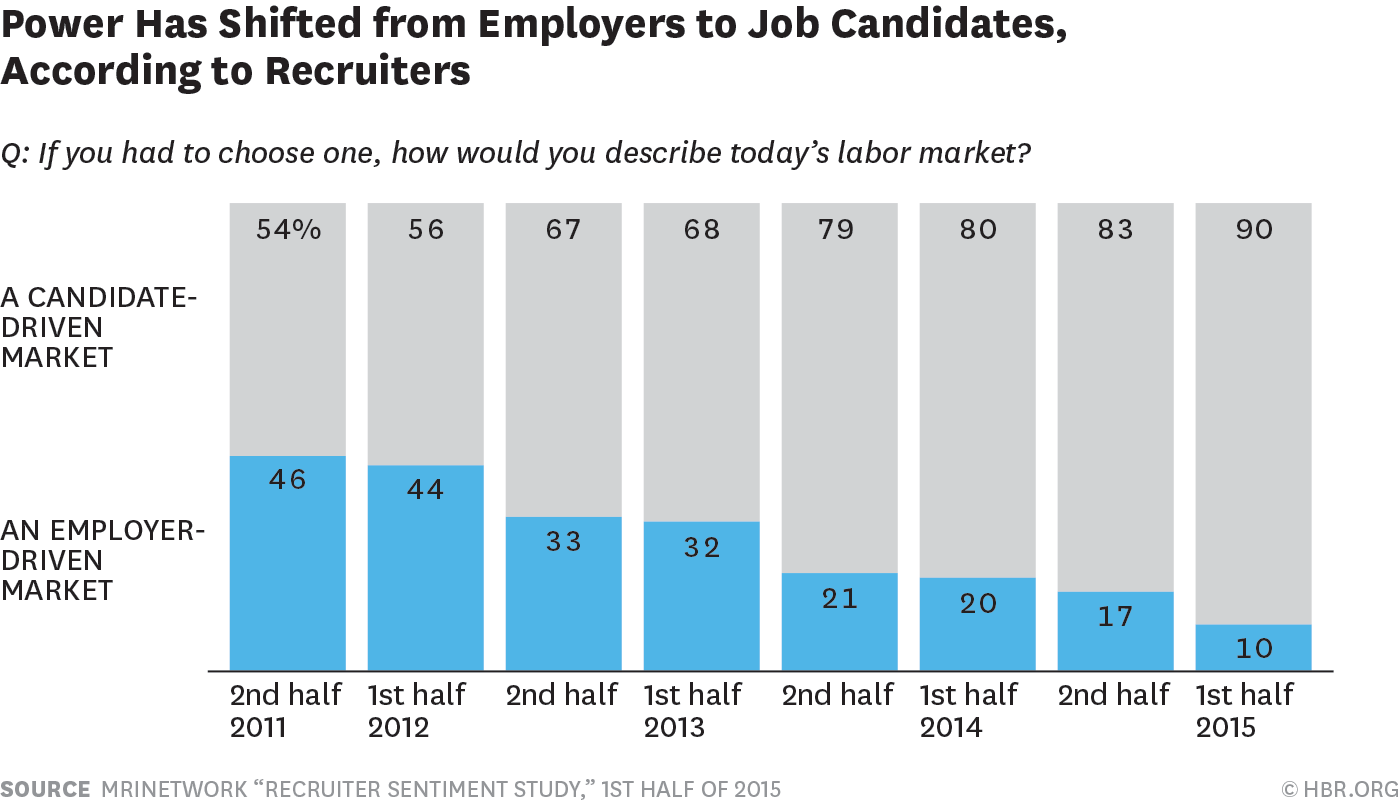 Employer branding is now a company-wide priority. More than 60% CEOs handle employer branding themselves. Employer branding helps them secure long-term recruitment needs and differentiate them from their competitor.
Finding the employer brand
Before you go into creating your employer brand, you need to identify it first.
Research is an important aspect when it comes to creating an employer brand. It gives your company it's true voice and helps you attract more candidates. Following are some of the questions you need to ask yourself, your team members and your candidates.
What's your Employee Value Proposition (EVP)?
Talk to your team and know what is it they love the most about your company. Your EVP is at the core of your employer branding activities.
What do your candidates think about you?
Today candidates are more aware than ever. Before even applying to a company they would check reviews on Glassdoor, social media and various online forums. Talking to your candidates would allow you to know where your current reputation stacks.
Is your team on board?
Creating an employer brand is a team sport. You need to get everyone including your leadership team onboard. You should also get to know what percentage of your employees would recommend your company to someone they know. Just carry out an NPS survey among your team.
Creating an employer brand is really similar to creating a story, a voice as an employer! Heineken created 'Go Places' employer branding campaign in over one and a half year. Gathering information was a critical part of the campaign and the video highlight the EVP at Heineken.
Creating the Employer Brand
Creating an employer brand requires a strategic approach towards how your company attracts, engages and retains talent. It's a continuous and iterative process which involves everyone in the team.
It's not your candidate database! It's your candidate community.
The candidates who apply or are interested in your company are more than an entry in your candidate database. The form a part of a much larger candidate community. You should try to engage with your community time to time, even if they are not actively looking for a job. Many companies like McKinsey, Facebook, P&G and Google are taking community approach in their employer branding strategies.
Engage regularly with your talent community.
You should regularly engage with your community. Send them monthly newsletter talking about the latest update, blog, achievement of the company. You can also run drip email campaigns to reach out to a large number of candidates automatically.
Match your employer brand resonate with candidate persona.
To hire the right talent, you need to build candidate persona for your open positions. Your employer brand marketing should target candidates with this persona. The Heineken ad above also talks about candidate persona through a series of interview questions and what they expect from the candidate. It attracts the right kind of talent to apply to the company.
Employer Branding is a team sport!
Always involve your team in your employer branding campaign. They not only define your EVP but also help you expand your reach. Your leadership team should be involved as it's the difference between an average and great employer branding. When your leadership team publishes or shares about it, it sets the tone of the entire company.
Communicate directly with the candidate
You should always send the right message through the right platform to your candidates. A number of employers have started using Snapchat to attract millennials to their company. Creating employee stories and sharing it on your website and social media pages gets your message directly to the candidate. You should always focus on 'showing' rather than 'telling' across all platforms.
UPS did it brilliantly in its employer branding campaign showing the human side of the job.
Use multimedia to get attention
Feel free use images and videos as collateral to enhance your employer brand. They do not help get more attention but are also widely share over social media. You can also create your culture deck like Netflix and put in on Slideshare where your prospective employees get a chance to know more about your company.
Data is the key
You should measure data at each point. Always measure the candidate experience with NPS. You can also use the same methodology for measuring employee happiness and compare it against your candidate community. Track metrics like hiring speed, pipeline status, ROI of sources to get maximum results.
Use Technology
Today thanks to technology most of the work can be automated. Tools like Recruiterflow help you expand the reach of your employer branding efforts. You can use tools like Buffer to schedule and measure social media posts across platforms. Always try to add a layer of automation wherever you can without compromising the human side of it.
Creating a great employer brand needs a lot discipline and work. Having a product branding roadmap will help you get results. Some of the companies who did it exceptionally got more than 5X quality applications in a span of 6 months. It also decreases your cost of hire as your sourcing engine becomes self-sustainable.
A good employer branding is the essence of your recruitment engine!
Use Recruiterflow to communicate directly with candidates, make hiring a team sport and enhance candidate experience.
Get Started for Free.