Yesterday we onboarded our 100th customer on Recruiterflow in less than 100 days (83 days to be exact). We rolled out our product on 21st July and reached this milestone on 12th October. What a journey it has been!
Following are some of the tactics which we used to reach this milestone:
Pre-product feedback from relevant stakeholders
Long before we started developing the product we created a basic wireframe the product and reached out to recruiters (50+), and founders (20+) at various target companies globally for early feedback on our ideology. This not only helped us get some valuable feedback but a number of these companies also adopted our product once we launched.
Keyword research and content creation
While our technology co-founder Naresh was busy building the product, I and Manan researched a number of keywords where we could land higher in search results. We used Keyword Planner and SEMrush to get relevant information. We were specifically focused on relevant keywords with less competition with 10-1000 searches per month. Having these criteria was important as we knew that initially, we won't be able to rank for highly competitive keywords. We created an excel sheet that looked something like this: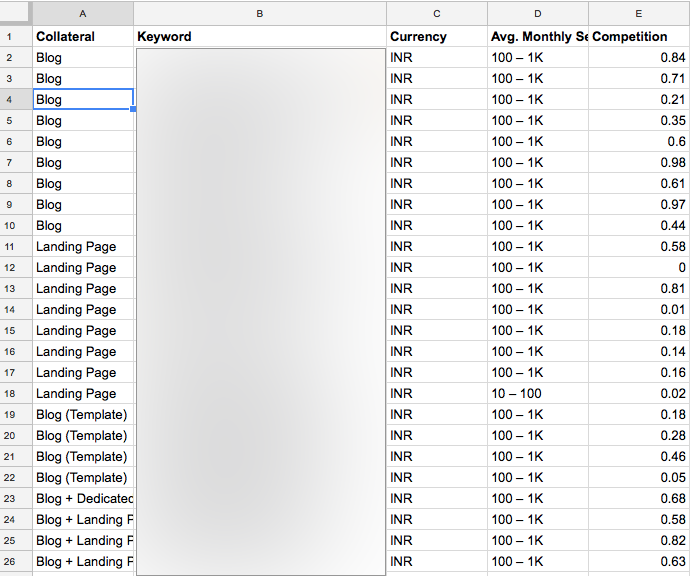 Based on the competition and the number of searches per month, we decided what collateral (Landing Pages, Blog, Tool, EBook, etc) to use for different keywords. For instance, some of the landing pages we created are:
We prepared the content for these collaterals way before we launched our product and published our first blog post on the 17th of April. From May-October our impressions and clicks have grown by almost 100% monthly with a constantly increasing CTR.
Quora
Quora has worked really well till now for us. We created a sheet specifically for quora where we would add the link for relevant questions, number of views, and topic. Before we launched our product, we wrote answers to these questions on that sheet. Once our product was live, we just pasted these answers on Quora.
Even now we constantly seek out questions on relevant topics and answer them twice a week.
Reach out to network
Thanks to BetaGlide, Inshorts, and StayGlad we had a network of people who were ready to help us. In the early days, we reached out to our network to seek feedback on our recruiting software idea. As we developed the product, we would show mockups to these people. Once we got our product in beta, we reached out to our network again to see if anyone would be interested to use the product and we got an amazing response (even though the product was a bit buggy at that time).
Listing on various platforms
As soon as we launched, we signed up on BetaList and submitted Recruiterflow. We also got Recruiterflow listed and rated by our customers on GetApp, Capterra, FinancesOnline, etc. Getting good reviews from our early satisfied customers really helped us move up in the ranking.
Reposting blog posts across networks
We would repost each blog we would write on our LinkedIn and Medium profiles as native articles have more weight than sharing links. This was to leverage our personal network on these platforms.
We created customized slides for these blog posts and shared them on SlideShare.
All of these blog posts were also shared on various recruiting communities to attract a large audience base. Some of these articles were featured on these platforms. This helped us get some good external traffic.
Guest posting
We reached out to the editors of a couple of leading recruitment blogs and requested if we could write a few articles on their blogs. The topics of these articles were pre-researched and customized for different blogs based on the content they published. We got a positive reply from more than 70% of publishers. Guest posting helped us create a brand and get some quality traffic on Recruiterflow.
While guest posting, make sure you reply actively to the comments on your article and also comment on similar articles.
Going a step further in supporting our customers
We were personally in touch with our customers starting from Day 0. We would call them regularly for feedback, solve their issues within hours and give serious consideration to their feedback. Since our customers were happy with us and our product, a number of them referred us to their friends who adopted our product.
Lessons to be learned
We are still very early in our journey. Sometime down the time, we may realize that some of these methods are not scalable. However, the beauty of these methods is that they can be executed easily. Yes, it takes some time and hard work to figure out what's working and what's not for your product, but once figured out it becomes easier to scale the methods to an extent.
Always start marketing your product long before launch. You don't need a product to get customers.
If any of these ideas worked for you or you have successfully implemented other ideas, feel free to drop a comment.