It's been a while since we came up with one of these. It's been a super busy first quarter here. Alas, better late than never!
So, here are a few things we added in the last couple of months and a snapshot of what's to come.
1) New and Updated 

Analytics
With the new and improved recruitment analytics module, you now have a few more reports to make sense of your data. You can see your metrics grouped by different users.
The charts in the reporting module were completely redesigned to add a dash of color and make it easy for you to visualize your KPIs in real time.
The new pipeline reports tell you how candidates are progressing along the pipeline grouped by lead owners.
All new activity report gives you a snapshot of various activities done by different users.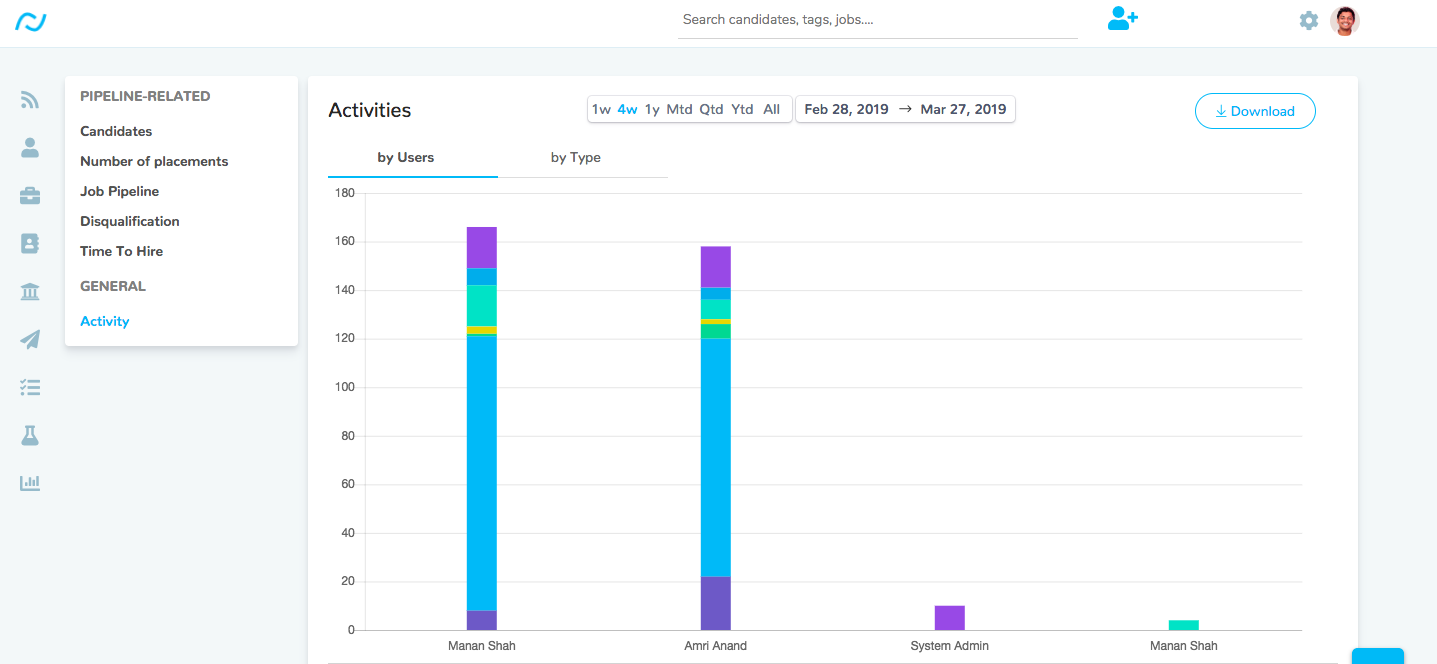 2) Robust API and Zapier Integration
Recruiterflow API has had a massive upgrade. Our API now gives you the freedom to read and write any candidate/contact record. The new API is also integrated with Zapier. This means surveys, forms and other responses can now be pushed to Recruiterflow directly.
3) Custom fields on contacts
Now, you can create custom fields on contacts as well to store data in a more structured way. The custom fields are supported in advanced search as well, so you can search through your structured data easily.
4) Email access permissions
Email visibility in Recruiterflow has become more granular. Now the sync setting has changed from thread level to email individual email level. In simpler terms, this will have no bearing on most of the users, however, it will eliminate a small chance of private email getting synced to Recruiterflow.
What is up next?
1) More automation
Recruiterflow recipes is a machine that is working for you in the background delivering best in class recruitment automation. In last 2 months, it has automated more than 30,000 tasks and emails and saved more than 400 hours of time for our users! Recipes has had a phenomenal response from users and we will be doubling down on it to cater to a wider array of use cases.
2) Boolean operator support
We will be rolling out full boolean operator support in advanced search. Currently, the advanced search doesn't support the full boolean operator. Well, no more! Let the boolean wizards run free.
3) Updates to Robin
Robin(the chrome extension) is by far the most used and loved feature of Recruiterflow. It's about time it got a big upgrade. In the next few months, you will be able to input & edit custom fields and create tasks right inside Robin.
4) A dedicated job page
As our users have grown with us, it has become imperative for our users to store more structured data, placement records and files for a job. Job requisition management will help you collaborate with hiring manager, store notes & files on a job, create tasks and predict revenue pipeline.
Also, as we grow and help thousands of Recruiters all over the world to be more productive and get more out of their day, we've seen a steady stream of media reviews and mentions by independent analysts. Recently, Fitsmallbusiness reviewed Recruiterflow for their Recruitment Software Page. Also, Softwaresuggest rated Recruiterflow as #1 talent acquisition software globally! Woo hoo!
We will be back with big announcements shortly. Stau tuned!