Let's get real here for a second. The pandemic has not been great for the recruiting and staffing industry. Searches are hard to come by for recruiting firms and recruiters are spending more and more time acquiring job orders and less time actually filling them!

Now, quite paradoxically, our data suggests that more successful recruiting firms actually work with fewer clients! The reason is pretty simple. They spend less time running after new business and more time serving the clients they already have. This leads to happier clients and repeats business!

So, in order to bill more, you actually need to spend less time on business development! How do we do that?


Introducing Deal Pipeline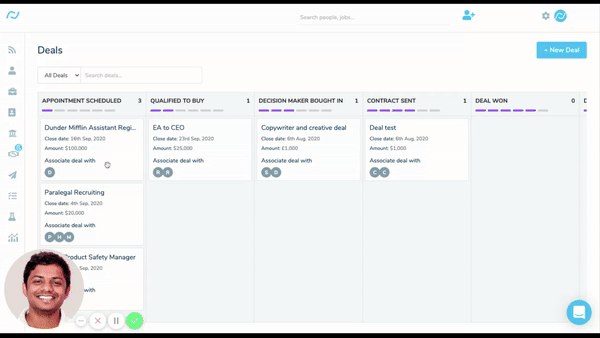 We are giving early access to a full-fledged deal tracking system inside Recruiterflow. Just like you can create and manage a pipeline of your candidates, you can now also manage and create a pipeline of your clients. Now you can make sure that you never let a lucrative deal slip through the cracks and close more deals with less work. 

It's a KanBan style visualization with a drag and drops functionality to move deals from one stage to another.
What it'll do for you?

Visualize the deal pipeline and see where each deal is stuck
Quickly get an idea about how large the pipeline looks like – both in terms of number and value of deals
Quickly get an idea of what's the next step required to close the deal. Never miss a step in your process of closing a deal
Work as a team on business development efforts and collaborate seamlessly with others
Get better data about your business development funnels
How can you get your hands on it?
If you are already a user of Recruiterflow, just follow this link and register for early access! If you are not, sign up for an account here.