Good folks at Financesonline have awarded recruiterflow the Rising Star and Great User Experience Award for 2017. They must be pretty smart to see this so early!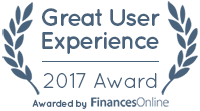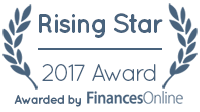 Joking aside, this is a major achievement for us. HR and recruitment software experts at financesonline have pegged recruiterflow as one of the top ats and recruitment agency software.
Our unique approach to applicant tracking and sourcing solutions makes it really easy for recruiters to attract and engage top talent. Recruiterflow's ability to sync with email communication, giving all hiring team members access to such important emails caught everyone's attention in the expert panel. But most of all, the experts have deemed the solution's user-friendly interface as a key feature, enriching candidate experience by customizing all hiring processes. These and more have led FinancesOnline to honor us with its 2017 Rising Star and Great User Award for best HR management software.
But it doesn't end here the prestigious B2B directory has also bestowed on the product the honor of including it on its list of best HR software. This only confirms what we knew all along, that Recruiterflow's unique design and ease of use would truly make an impression on experts and users alike. To make matters even better, their team of experts distinguished Recruiterflow as one of the top performers in their HR management software category. Readers relying on expert advice to make the best software deals already know these awards are reserved exclusively for systems that automate core operations but don't require deep IT knowledge; and such that are adopted and appreciated by users really fast.
They were impressed with recruiterflow's ability to engage candidates and sourcing features. Our recently released campaigns feature has powered sourcing for customers and has outperformed traditional email campaigns by 50%! BTW, have you tried our drip campaigns for recruitment yet?
Use Recruiterflow to source candidates with super personalized drip email campaigns that convert 2.3X better.
Get Started for Free.