It's a beautiful new year! It's time to be contemplative and hopeful. As I look back to the year that has gone by, it's been extremely eventful. Recruiterflow has come a long long way in this year. Our revenue grew more than 20x and we acquired customers across more than 20 countries around the globe! Here's what our monthly revenue graph looks like for 2018! Couldn't have asked for a better year.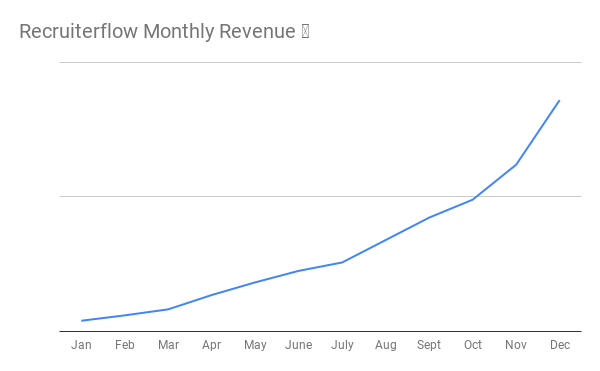 More importantly, I can proudly say that Recruiterflow is a much better product than it was a year ago. When I look back at the design mockups we used to implement in December last year, they frankly seem a little embarrassing! This has resulted in consistently high user satisfaction and we've been rated one of the best applicant tracking systems in the world by analysts and users alike. (If you have a good word to say about us – Let the world know on Capterra! I will owe you big time!)
In the last couple of months, we've brought a few major upgrades to Recruiterflow. Here are a few of them.
Lead Owners

: We've introduced a concept of lead owners to better attribute placements. It also helps teams with separate sourcing and recruiting functions manage their workflow better.

Knockout questions

: You can create knockout questions in the application form to auto disqualify ineligible candidates from coming into your pipeline. This has led to hours of time saved for a bunch of our users.

More job boards

: We integrated a few more geography specific job boards and there will be more to come.
This year, we are taking a bigger leap toward being more proactive with users. To that end, we are making our product roadmap public. You can access the roadmap for Q1 2019 here. There are two main reasons why users love us. Simplicity and speed of improvement. We've been pretty quick to recognize the needs of our users in an evolving landscape and build features that help them make their days better. In the next few months, these are the things we will be working on.
LinkedIn Recruiter Integration

: You can now use the chrome extension to add candidates with 1-click straight from these two accounts

Texting integration:

 We are almost finishing up integration with Twilio that will allow you to text candidates straight from Recruiterflow.

Smarter search

: One of the biggest assets that you can have as a Recruiter is your candidate database. Building a better way to search your database is going to be a priority for us in the coming year. We just released a way for you to search through your custom fields. We will be adding AI driven search experience that will contextually surface the candidate for every new job you open.

More integrations

: This is the year where we will be integrating a whole bunch of other tools that you love. Very soon the Twilio integration will go live, there will be more integrations coming to help you communicate faster and organize your team and workflow.
That's all for now folks! Stay tuned for more product updates and have a fantastic 2019! Let's kill those placements, shall we?